Apple Sues Mobile Star LLC
October 21, 2016: As a follow-on to our 'fire-hot' topic about burning iPhone 7: Apple sues Mobile Star, a manufacturer from New York for making and selling counterfeit charges and cables via Amazon. The consumer product safety and testing organization UL) published the report that stated among other things: fake Apple branded chargers "lack the safety features necessary to protects users from shock and fire hazards" and "were so poorly designed and constructed that they posed a risk of lethal electrocution to the user."
Apple Sues Mobile Star LLC for Counterfeit Chargers and Cables
It was the increasing number of negative reviews from customers that alerted Apple Corporation and invoked further investigation of the matter. Customers report chargers taking fire and melting and the angry feedbacks were snowballing.
On Mobile Star official web site, the company positions itself as the authorized distributor of Apple chargers for iPhones, Macbooks, iPods and iPads. But is the company authorized to manufacture them? The answer is no. No they aren't and they abused the Apple owners and undermined their trust in reliability of Apple products as well as in Amason reputation.
So, if you bought your charger from Mobile Star, you got a counterfeit product. But this company isn't the only one that fakes accessories to popular gadgets. We highly recommend you to follow the tips Apple posted to help you to identify your cable or\and charger.
Here's the picture embedded for your convenience: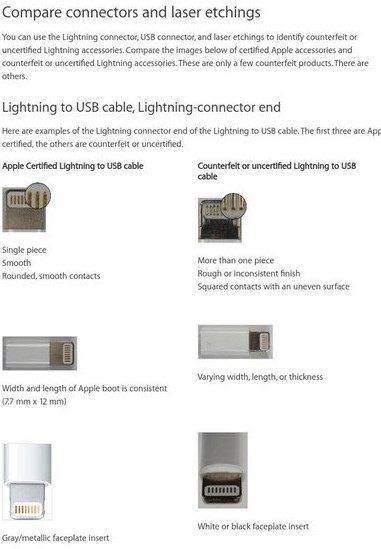 Credit photo: http://cdn.redmondpie.com/wp-content/uploads/2015/04/Apple-lightning-fake.jpeg
Links
Visit our website and check on our prices for your old apple computers and gadgets. Sell these secondhand devices now to iGotOffer.com and save money for new Apple models: Sell my computer now!