The Apple Monitor II is a Cathode ray tube (CRT) based monochrome monitor designed and marketed by Apple Computer for the Apple II personal computer series. This monitor included insignificant adjustments for the size and location of the image on the display.
Apple Monitor II
In fact, the Monitor II was designed by Apple for the Apple II+ model. However it was used widely throughout the the whole Apple II line.
Specifications
Introduced in 1984. At the time, monochrome monitors were very common.
Type: Monochrome CRT
Display: CRT 12" monochrome (green phosphor). The display was conceived to reduce glare.

Text resolution: 80 x 24 text characters, any type of graphics.
Size: 12″.
Fixed Resolution: NTSC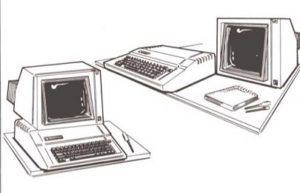 Where to put the Monitor II. A plastic stand allowed to accommodate the large footprint of the Apple II series of computers. Source of the photograph: Monitor II User's Manual.
Apple Order, Discontinuation, Price
Model Number: A2M2010.
Discontinuation: November 1993.
Price: Introductory price – around US $400. US $350 if bought with the Apple computer. Today these monitors have become collectibles and may be sold at US$ 50-100, depending on their conditions. You can always ask iGotOffer.com if your old Apple Monitor III is worth any money.
Miscellanea
The Monitor II was preceded the Apple Monitor III by four years, as Monitor III was introduced in 1980 and released in 1981.

Home users of Apple II computers used their televisions as computer monitors before the release of the Monitor II, as Apple did not manufacture monitors for the Apple II computers until halfway through the lifespan of this family.

Users didn't need a tilt-and-swivel device, as the inner vertical-swiveling frame. allowed users to adjust the viewing angle up or down.

All monochrome monitors, including the Apple Monitor II are susceptible to screen burn, as the phosphors used are very high intensity. They are also subject to the effect known as "ghosting". Long persistence monitors used the time of the phosphor glow to reduce flickering, and, therefore, eye-strain.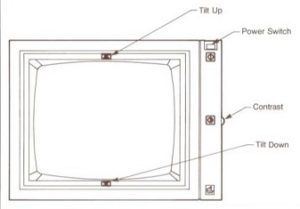 Controlling and Adjusting Your Monitor II. The design of the Monitor II makes controlling the display and adjusting the screen easy. The most frequently used controls are: the on/off switch. The contrast control. The tilting screen feature. Controls on the Front of the Monitor I. Source of the photograph: Monitor II User's Manual.
Links
If your eyes are on modern displays and you look for good hands to adopt your old monitor, contact us, and we'll give you the best price: Sell my Apple Display now!