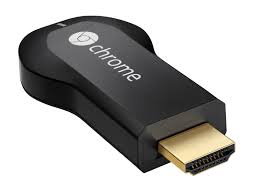 Chromecast: Digital Media Player Developed by Google
Chromecast is a digital media player developed by Google. The device plays audio and video content on a high-definition display by directly streaming it via Wi-Fi.
Users select the media to play using Chromecast-enabled mobile apps and web apps. Alternatively, content can be mirrored from the Google Chrome web browser running on a personal computer, as well as from the screen of some Android devices.
Measuring 2.83 inches (72 mm), Chromecast plugs into the HDMI port of a high-definition television or monitor. The power is supplied by connecting the device's micro-USB port to an external power supply or a USB port. The device connects to the Internet through a Wi-Fi connection to the user's home network.
Chromecast allows to stream content to a television, and playback is initiated through the "cast" button on the controlling device. If the television's HDMI ports support the Consumer Electronics Control (CEC) feature, pressing the cast button will also result in the Chromecast automatically switching the television's active audio/video input using the CEC command "One Touch Playback".
When no content is streamed, Chromecast displays a user-personalized content feed that can include featured and personal photos, artwork, weather, satellite images, news and weather forecasts.
The Google Cast software development kit (SDK), which gives developers a way of handling "second-screen interactions" and making their apps Chromecast enabled, was released as a preview version on July 24, 2013. Google opened the SDK to all developers on February 3, 2014.
Google lists Chromecast operating system updates on the Chrome Releases blog. As with Chrome OS devices, Chromecast operating system updates are downloaded automatically without notification. In the device's first year on sale, "millions" of units had sold and over 400 million casts had been made.
­
See also
Apple Encyclopedia: all information about products, electronic devices, operating systems and apps.
iGotOffer.com: the best place to sell used Apple device online. Top cash guaranteed. Free quote and free shipping. BBB A+ rated business.
<!-comments-button-->