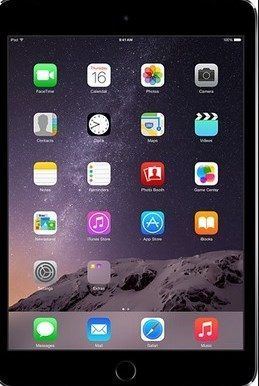 Before You Sell iPad Mini: Remove Data
Beautiful to look at and easy to use, Mac mini has a seamless, unique look that is unmistakably Mac. It's still the world's most energy-efficient desktop computer. Indeed, it doesn't just meet ENERGY STAR requirements, it exceeds them.
Before you sell used iPad mini 3, make sure that you've removed all of your personal data.
Back up your iPadSign out of iCloud. For this tap Settings > iCloud, scroll down. Tap Sign Out. Go to Settings > General > Reset. Once there tap Erase All Content and Settings. Your iPad will be completely deleted. Any credit or debit cards you added for Apple Pay will be erased. Any apps, music, photos, documents, etc, will be erased too.FaceTime, iCloud, Game Center, iMessage and other services will be turned off. The device will be erased and removed from your account.
After you sell old iPad, Setup Assistance will guide the new owner through the setup process when they turn on iPad for the first time. Your content won't be deleted from iCloud when you erase your iPad mini 3.
Before You Sell Mac Mini: How To Erase Everything On HDD?
You need to sell this old Mac Mini and get as much cash for it as possible? It happens to all of us. Needless to say that you would like it where none of your info on this device, including your personal login account and iCloud features within.
There are some things you'll want to do to prepare the Mac Mini for sale:
Make sure everything is backed up: Even if you're using Time Machine to back up your Mac Mini onto an external hard disk drive, we recommend going through all directories to make sure that everything has either been migrated to your new computer or is available from a backup.
De-authorize iTunes: If you have more than one computer, you might want to de-authorize iTunes on the old Mac Mini that you're about to get rid of. This makes sure that you don't accidentally bump up against the limit of five computers that can play your iTunes Store purchases.
Erase your hard drive: The best way to erase your hard drive is to boot from a Mac OS X installer disk, if you have one. To do this go to the Utilities menus when the installer comes up. Select Disk Utility. Select the drive. Click on the Erase tab. By doing this you make darn sure none of your personal information is retrievable.
If you're getting ready to sell Mac Mini, reload the OS at this point. However don't start going through the Setup Assistant. Instead, when you see the start-up screen, use Command-Q to quit the installer. Shut the computer down. The next time it is started up, the new owner will get to go through all of the joy of setting up their new Mac Mini.
Now you can sell old iPad mini 3! Don't waste your time – sell iPad mini 3 to iGotOffer!
­See also:
Apple Encyclopedia: all information about company, products, electronic devices, operating systems and apps.
iGotOffer.com: the best place to sell my used iPad online. The top cash guaranteed. Free quote, free shipping. BBB A+ rated business.
<!-comments-button-->