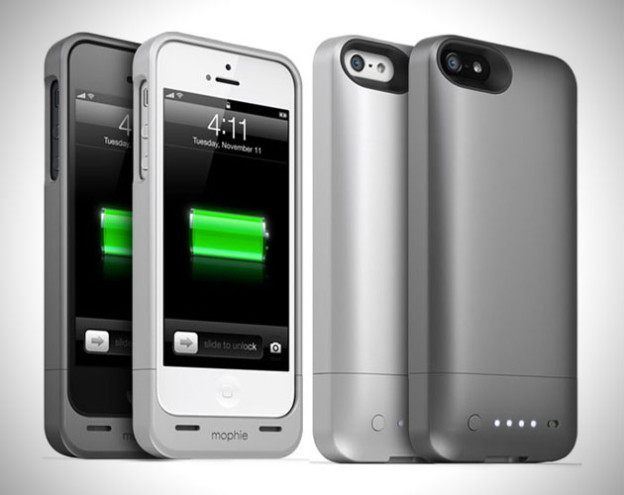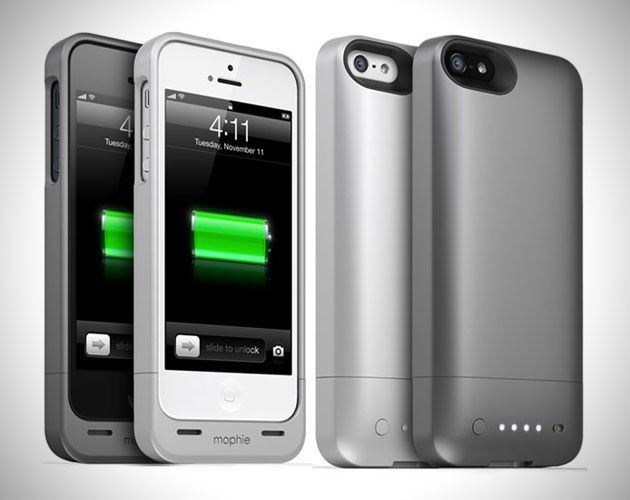 iPhone Battery Cases
Let's talk battery life. You certainly know that with careful use, you can make your iPhone's battery last all day. However, if you're away from places to recharge the device, for instance, if you are traveling, you'll need a battery case, and there are indeed many battery cases for the iPhone.
All of them work the same way: You charge the cases up by plugging them into a wall adapter or USB port, and you activate them when you want to start charging up the iPhone's built-in battery. Once inside a battery case, if you plug in the case to recharge it, your iPhone recharges first, and only afterward does the case start charging. All battery cases plug into your iPhone's Lightning connector.
The best iPhone battery cases should be easy to toggle on and off, and capable of providing a good indication of how much battery life remains in the case. Of course, they should provide a lot of extra juice.
Today, keeping your iPhone in a battery case may provide an extra benefit, since almost all such cases rely on cheap Micro-USB cables for charging. Thus you may well have other devices, such as speakers or keyboards that can share the same charging cable.
Regardless of which battery case you choose your iPhone will require more juice to charge the final twenty percent of the way: turn on your battery case when the battery level drops to around 20 percent remaining, and then turn the case off again when your iPhone hits 80 percent. They say that strategy will maximize how much battery goodness you can squeeze from the case while you're out and about.
But what about different models?
-Mophie makes excellent battery cases, and sells three models for the iPhone 5: the Juice Pack Helium, the Juice Pack Air, and the Juice Pack Plus. You should note that Mophie made these names confusing: The Helium for the iPhone 5 looks a lot like the Air for the iPhone 4/4S, the Air for the iPhone 5 resembles the Plus for the 4/4S, and the Plus looks like the Plus of 4/4S. The Mophie cases thick bases require that you use an adapter cable to access the headphone jack. However, each two-piece case is easy to put on and remove.
-The Helium offers the least power (1500 mAh), and has button cut-outs. The Air (1700 mAh) and the Plus (2100 mAh) both offer button overlays. The Plus adds substantial power, so unless you really value the slightly smaller size, go with the Plus.
-MyCharge Freedom 2000 packs in 2000 mAh of power, which should more than double your iPhone 5's battery life. The case takes a decidedly different approach from the Mophies. For starters, it's a single piece, and you "press fit" your iPhone into the case. Note than the little rubbery flap that guards the Micro-USB port on the base feels awfully vulnerable to an accidental tear. You'll also find a Lightning-connector charging tether, which you pull out from the case's body and manually plug into your iPhone 5.
-Lenmar Meridian is a two-piece case, similar in design to the collection from Mophie. The case offers 2300 mAh of power, which is a lot, and it fits into a svelte package. The Meridian leaves the headphone jack very deeply recessed, just as Morphie. But while the Mophie cases ship with a small headphone adapter, the Meridian doesn't. You'll be able to squeeze your white iPhone headphones into the plug if your aim is straight and true, but anything thicker will require an adapter that you'll need to provide yourself. If you're after the most milliampere hours possible, the Meridian is worth considering.
-iBattz cases make the batteries in its cases removable, which is a clever design since it means you can carry more than one backup battery if you're so inclined. The Mojo Hi5 Power Bank Case is designed so that you can keep your iPhone 5 in a slimmer case until you actually need the extra battery power, because the package includes a pair of slim plastic hard-shell cases, plus a single 2500-mAh battery that you can snap onto your case-clad iPhone as desired.
-Belkin Grip Power Battery Case packs in a 2000-mAh battery, and is available in several color pairs. The main battery portion plugs into your iPhone 5, and a thin frame that snaps down around the front. The backing plastic on the case feels a little cheap in my hand, but I like the look regardless.
-PowerSkin's Pop'N  for iPhone 5 can work as a case, or as a battery add-on to your existing case—that is, assuming your case will stick to the suction cups that cover the surface of the Pop'N. It offers a 2000-mAh battery, and it shows off some interesting design choices: Because it adheres to the back of your iPhone, it doesn't occlude the sides—all of those buttons remain exposed, as does the headphone jack at the bottom.
-Unu DX Protective Series is worth a look. It uses a 2300-mAh battery, and has a two-piece cap-and-base design that functions a lot like the Mophies do. The DX ships with a small headphone extension cord, too. The case uses button cutouts, including one around the Ring/Silent switch
-The Odoyo Power+Shell provides 2,200 mAh of power, and it comes in three colors—two shades of white and a matte black. Technically, according to the company, the Odoyo beat out all the others in terms of sheer power, clocking in at a gigantic 2,348 mAh, six percent more than its stated 2,200 mAh. wn to the power indicator LED.
Well, there are other battery cases, but all of them either are lacking in power, too expensive, or not durable enough to survive basic use.
Finally, keep in mind that if you have an iPhone 5 that's experiencing battery problems, you may be able to get a free replacement battery from Apple, so think about it before selling your device.
­See also:
Apple Encyclopedia: all information about products, electronic devices, operating systems and apps.
iGotOffer.com: the best place to sell your old iPhone online. Top price guaranteed. Free quote included. BBB A+ rated business.
<!-comments-button-->