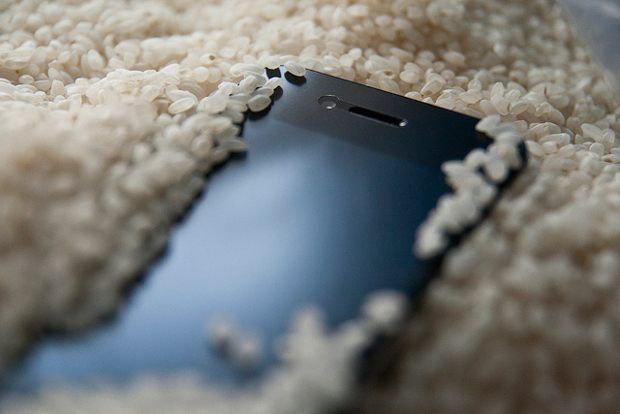 Fix iPhone Water Damage: iPhone and Rice
We break our smartphones because we depend on them. So we keep them with us constantly. And we drop them too often…
Sometimes, we drop cell phones from our laps when we get out of our cars. Sometimes, we drop our iPhone off the edge of a 20th floor balcony while reaching for glass of wine.
And sometimes we put our smartphones in the washing machine. We lose track of where the iPhone is, we call it on the land line and… we hear it ring deep inside the washer. And then we can't open the door and thus have to watch through the window helplessly as our phone tumble in the suds, because the machine locks during parts of the cycle. Even more, sometimes a phone goes through the washer and the dryer.
But is you laundered phone truly broken? Many claim that wet phones can be dried out by silica gel packs or rice, both products being moisture-absorbing.
After this unfortunate accident happens you can immediately put your phone into a bowl filled with rice, and begin my vigil (don't forget to remove the case and sim card). Keep it in rice for three or five days. Oh, yes, everyone knows it – your phone has so much of you in it – your music, podcasts, photos, apps… it is like a part of yourself in that rice bath. So you pray every day. And you change the rice daily. Do not turn the iPhone! After 4 our 5 days, pull your suffering device out of the rice and plug it into the charger, hoping.  Don not power the phone back on or charge it while there is still water inside, as the electrical short caused by water can crash the device.
Keep in mind that soap will not evaporate, so rinsing in distilled water will remove the soap, improving the odds of this recovering.  In some devices, removing the battery fast enough, before a short can occur can also save your phone.
Then you may be lucky, and the rice trick can work wonders. Patience may be rewarded. Or, may be your iPhone destiny was fulfilled and it was dead for ever…
Then you go to an Apple store and leave it left considerably lighter of wallet, but with a new iPhone. Well, it was one expensive load of laundry. But you learn your lesson!
­See also:
Apple Encyclopedia: all information about products, electronic devices, operating systems and apps from iGotOffer experts.
iGotOffer.com: the best place to sell my used iPhone online. Top cash guaranteed. Free quote and free shipping. BBB A+ rated business.
<!-comments-button-->