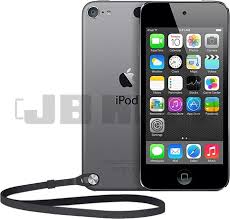 iPod Touch 5th Generation
The fifth generation iPod Touch, colloquially known as the iPod Touch 5G is a touchscreen-based pocket computer designed and marketed by Apple Inc. IPod Touch 5G succeeds the 4th generation iPod Touch. It introduces a higher-resolution, 4-inch screen to the series with 16:9 widescreen aspect ratio. The model is slimmer and lighter than the previous versions. Other improvements include support for recording 1080p video and panoramic still photos via the rear camera, as well as LED flash, Apple's A5 chip, and support for Apple's Siri. The iPod Touch 5G is available in space grey, blue, pink, silver and Product Red. Its finish features an aluminum unibody which is made from same kind of anodised aluminium used in the MacBook line.
The fifth generation iPod Touch was released on October 11, 2012. It was initially only sold in 32 GB and 64 GB models. The first 16 GB model was introduced in May 2013. The device was only available in one color and lacks the rear iSight camera and the iPod Touch Loop that is included in the 32 and 64 GB models. However a new 16 GB model was introduced on June 26, 2014, This version includes the furl range of color options and rear camera.
iPod Touch 5G features iOS, Apple's mobile operating system. The user interface is based on the concept of direct manipulation, using multi-touch gestures. Interface control elements consist of sliders, switches, and buttons, and interaction with the OS includes gestures such as swipe, pinch, tap and reverse pinch. Internal accelerometers are used by some applications to respond to shaking the device or rotating it vertically.
The device can play music, movies, television shows, eBooks, audiobooks, and podcasts. It can sort its media library by songs, artists, albums, videos, playlists, genres, composers, podcasts, audiobooks, and compilations.
The fifth generation iPod Touch was the first in the iPod Touch line-up to include Siri, that allows the user to operate the device by spoken commands. Typing can be aided by the voice assistant, which converts speech to text, and also supports iMessage, a specialised instant messaging program and service that allows unlimited texting to other Apple devices running iOS 5 or later. Some newer applications and features that came with iOS 6 included Apple Maps, Passbook and screen mirroring.
With a iSight camera and a LED flash at the back, the iPod Touch includes a feature known as the iPod Touch Loop. At the bottom left corner on the back of the iPod Touch, it features a button which is activated by pressing it down to allow a loop to attach to the iPod Touch.
­See also:
Apple Encyclopedia: all information about products, electronic devices, operating systems and apps.
iGotOffer.com: the best place to sell your old iPod online. The best offer guaranteed. Free quote and free shipping. BBB A+ rated business.
<!-comments-button-->