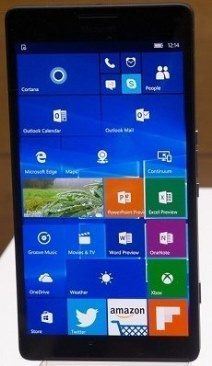 Microsoft Lumia 950
Microsoft Mobile Lumia 950, Lumia 950 XL and Lumia 550 smartphones have been revealed on October 6, 2015. These powerful phones are among the first phones to run Windows 10 Mobile.
Microsoft has developed a 5.2-inch WQHD (1440 x 2560) OLED display on the Lumia 950. The phone has 3GB of RAM and is operated by Snapdragon 808 processor. The larger 950XL comes with a 5.7-inch screen with the same resolution of the 950. It has the Snapdragon 810 processor. High pixel density (564 pixels per square inch) shows an amazing amount of detail. Super-strong display glass helps protect the phone.
Lumia 950 takes very neat pictures. With its powerful camera features like Rich Capture, a triple LED natural flash, and a 20 MP sensor, it automatically takes sharper images of fast-moving objects. In deed, it has been engineered to virtually eliminate motion blur. With higher resolution and better fast-action capture, 4K video lets you preserve photos in stunning quality. User can connect the Lumia 950 to a Microsoft Display Dock and Windows apps like Word, Excel, and Microsoft Edge scale up for a PC-like experience on an external monitor.
Let's remind you that Microsoft Lumia is a range of mobile devices designed by Microsoft Mobile and previously by Nokia. (In September 2013, Microsoft announced its purchase of Nokia's mobile device business). From 1998 to 2012, Nokia was the largest vendor of mobile phones in the world. Later its market share declined as a result of the growing use of touchscreen smartphones from other vendors, such as Apple's iPhone line and Android-based products.
Nokia and Microsoft Mobile have released a few updates unique to Lumia devices. Each release contains a combination of firmware and software updates. They include imaging improvements and new technology support. They also include feature updates and bug fixes.
Besides, Lumia devices use Windows Phone. That's why major operating system updates are bundled with the firmware updates upon release.
Similar to how Windows Phones receive operating system updates, Lumia update releases are dependent on carriers who decide if and when devices are to receive them.
­
See also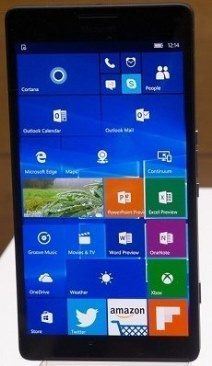 Microsoft Lumia 950. Photo by : microsoft.com/en-us/mobile/phone/lumia950

<!-comments-button-->