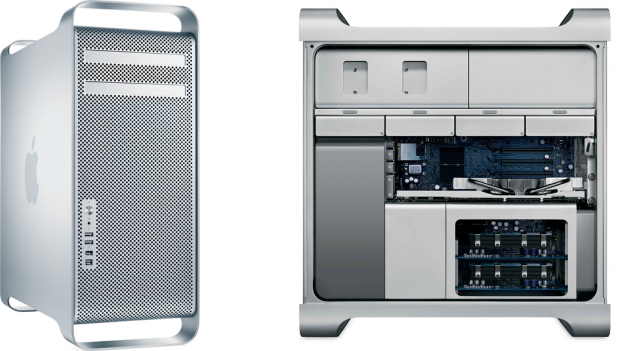 Mac Pro: The Most Powerful Mac Ever
The new Mac Pro looks unlike any other computer. By rethinking the architecture of its internal components, Apple had the chance to rethink the entire enclosure. And since everything centres around a unified thermal core, the company was free to design a much leaner, lighter, quieter and far more streamlined structure. The unique design and beautiful finishes of the Mac Pro are executed to an extraordinary degree of precision. And at just 25.1 cm tall with a diameter of just 16.7 cm, it's a pro desktop computer that can actually sit on your desk.
The Mac Pro line is a series of Intel Xeon–based workstation and server computers. In most configurations, as well as in terms of speed and performance, Mac Pro is the most powerful computer that Apple offers. The Mac Pro delivers state-of-the-art performance across the board. The computer is engineered around workstation graphics with dual GPUs, PCIe-based flash storage, high-performance Thunderbolt 2, new-generation Xeon processors, ultrafast memory and support for 4K video.
Every component is optimized for performance. It supports up to 64GB of memory and delivers up to 60GB/s of memory bandwidth. A four-channel DDR3 memory controller runs at 1866MHz which means you can fly through even the most compute-intensive tasks in no time.
The first generation of Mac Pro has a rectangular tower case which outwardly resembles the last version of the Power Mac G5, and has similar expansion capabilities.
The new Mac Pro packs an unprecedented amount of power in an unthinkable amount of space, because the ingenious unified thermal core. Rather than using multiple heat sinks and fans to cool the processor and graphics cards, everything is built around a single piece of extruded aluminum designed to maximize airflow as well as thermal capacity. It works by conducting heat away from the CPU and GPUs and distributing that heat uniformly across the core. That way, if one processor isn't working as hard as the others, the extra thermal capacity can be shared efficiently among them. No computer has been built this way before. Thus Apple positions itself as a leader in non-linear digital editing for high-definition video, which demands storage and memory far in excess of a general desktop machine.
Mac Pro is equipped with all kinds of connections for all kinds of peripherals. USB 3 gives the versatility to hook up dozens of different types of external devices. Two Gigabit Ethernet ports let user connect to multiple networks. And an HDMI 1.4 port provides support for the latest televisions, projectors and displays, including Ultra HD TVs. As you rotate Mac Pro to plug in a device, it senses the movement and automatically illuminates the I/O panel.
­See also:
Apple Encyclopedia: all information about products, electronic devices, operating systems and apps from iGotOffer.com experts.
iGotOffer.com: the best place to sell my used Mac Pro online. Top cash guaranteed. Free quote and free shipping. BBB A+ rated business.
<!-comments-button-->