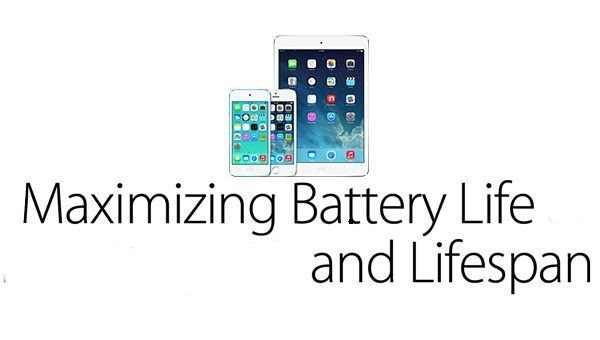 Maximize battery life and lifespan
Apple uses two terms "battery life" and "battery lifespan" to define the amount of time of a battery of a device. Indeed, battery life is the amount of time the device runs before it needs to be recharged, generally, a few hours.  "Battery lifespan" though is the total amount of time the battery lasts until it needs to be replaced, and this time is counted in years.
You can maximize both and you'll get the most out of your Apple devices.
1.First at all, you should update you device as often as possible. Indeed, Apple software updates often include advanced energy-saving technologies, so always make sure your device is using the latest version of iOS or OS X.
2.Next, you should always keep the device away from extreme temperatures. All common electronic devices are designed to perform well in a wide range of temperatures, with 62° to 72° F as the ideal comfort zone. Even more, it is very important to avoid exposing the device to temperatures higher than 95° F. Higher temperature can permanently damage battery capacity. In this case, the battery won't power your device as long on a given charge.
Storing and charging the device (MacBook, iPhone, iPad, iPod) in high temperatures will also damage it irreversibly. On the contrary, when using your device in a very cold environment, you'll observe a decrease in battery life, but this condition is temporary. Once the battery's temperature returns to its normal operating range, its performance will return to normal as well.
3. Charging your device when it's inside certain styles of cases can affect battery capacity. If you notice that your device gets hot when you charge it, take it out of its case first.
If you want to store your device long term, two key factors will affect the overall health of your battery: the environmental temperature and the percentage of charge on the battery when it's powered down for storage. To store the battery, thus, do not fully charge or fully discharge it. Charge it to around 50%. Remember that if you store a device when its battery is fully discharged, the battery could become incapable of holding a charge. Conversely, if you store the batter fully charged for an extended period of time, the battery may lose some capacity, leading to shorter battery life.
Depending on how long you store your device, it may be in a low-battery state when you remove it from long-term storage. After it's removed from storage, it may require 20 minutes of charging with the original adapter before you can use it.
4. Adjust your screen brightness and use Wi-Fi. Dim the screen or turn on Auto-Brightness to extend battery life.  When you use your device to access data, a Wi-Fi connection uses less power than a cellular network, so keep Wi-Fi on at all times.
5. To improve battery life turn off the feature that allows apps to refresh in the background. Go to Settings > General > Background App Refresh and set the switch to Off. If the Mail app lists Background Activity, you can choose to fetch data manually or increase the fetch interval. Go to Settings > Mail, Contacts, Calendars > Fetch New Data.
6.  You can optimize your battery life by turning off Location Services for the app. Turn off in Settings > Privacy > Location Services.
7. If an app frequently wakes your display with notifications, you can turn off push notifications for the app in Settings > Notifications. Tap App and set Allow Notifications to Off.
8. The Energy Saver preference pane includes several settings that determine power levels for your MacBook. Your MacBook knows when it's plugged in and runs accordingly. When using battery power, it dims the screen and uses other components sparingly. If you change this setting to maximize performance, your battery will drain more quickly.
­
See also
Apple Encyclopedia: all information about products, electronic devices, operating systems and apps from iGotOffer.com experts.
iGotOffer.com: the best place to sell my used MacBook online. Top cash guaranteed. Free quote and free shipping. BBB A+ rated business.
<!-comments-button-->