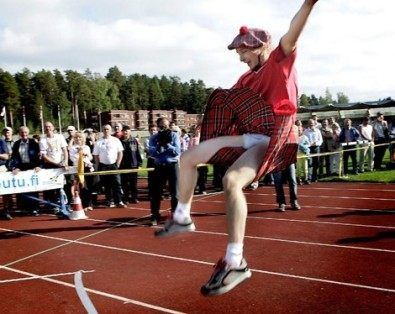 Mobile Phone Throwing As Sport Gains Popularity
Mobile phone throwing as a sport was first born in Finland in 2000, but since then it has become an international sport. In this sport, participants throw mobile phones and are judged on distance.
Mobile phone throwing includes four main categories: traditional or original, where an over-the-shoulder throw with the farthest distance winning; freestyle, with contestants getting points for aesthetics and choreography; team category: three competitors have one throw each with their scores added together; junior category which is for children aged twelve or younger (ID must be presented if asked). Usually, teams are comprised of men and women.
Freestyle phone throwing consists of a series of flips, spins, high throws, and so on. If a contestant drops his or her mobile phone, he or she is out. As a rule one minute is given for a total run time. If after the minute is up, the sportsman or sportswoman has not dropped the cell phone, he or she gets a score from 1 to 100.
At some events any phone that weighs over a certain weight is acceptable, but at other contests the choice is down to devices provided by the event organizers, who can choose one or different models. Generally, the phone must be with its battery installed.
During the throw the competitor must stay within the throwing area, and the phone must land within the marked throwing sector. There is no dope testing.
Mobile Phone Throwing was first arranged in the city of Savonlinna, Finland, by a translation and interpretation company Fennolingua, in partnership with local recycling centers. The first championship was supposed to use the possibility to throw the gadgets as a way to throw away frustrations along with used mobile phones.
Since that first championship, Mobile Phone Throwing World Championships have been arranged every year in late August. National championships are held in Finland, Norway, Switzerland (where the first winter championship was held in February 2005), Germany, UK, Spain, US and other countries.
Besides the world and national championships, many regional tournaments are organized throughout the world.
Today Mobile Phone Throwing interests people all over the world, as humor allows people to overcome their stress and depressions, and everyone, youngsters and adults alike are thrilled since they are allowed to throw expensive phones and win points for that!
­See also:
Apple Encyclopedia: all information about company, products, electronic devices, operating systems and apps.
iGotOffer.com: the best place to sell used iPhone online. Top cash guaranteed. Free shipping. BBB A+ rated business.
Credit photo: mobilephonethrowing.fi

<!-comments-button-->