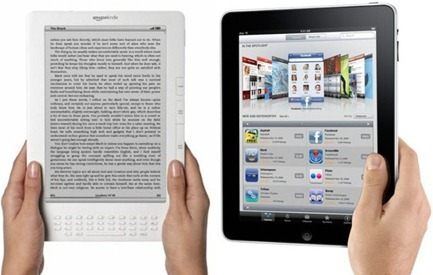 Reading Kindle Books on iPad
Kindle Books: Can you read Kindle books on your iPad? Yes, you can read Kindle books on iOS devices using the Amazon Kindle app. This app also allows the user to read newspapers, magazines, textbooks and PDF files. Besides, the Kindle app automatically syncs the last page the user reads across all his devices. It allows user to buy books directly from the Kindle store (even more, the iPad user can read the first chapter of a book for free before he decides to purchase it). The Kindle iOS app will automatically save the last page the user has read in a book across all his devices, but he can bookmark a special page by just tapping the icon in the upper right hand corner so it turns blue.
The Kindle app is free to download. It requires iOS 6.0 or later. It's compatible with iPad, iPhone and iPod touch.
When you read an e-book using Kindle app, you can change the font style, size and the brightness on the Kindle app for the iPad. It`s also possible to change the color of paper (background), line spacing and margin size. You ca do it by tapping the Aa icon on the top of the display while using the Kindle iOS app for the iPad. Meanwhile, iPhone users can tap the middle of their display to bring up the menu box. They tap then the Aa to access the same settings.
To highlight text on the Amazon Kindle app for the iPad, the user does it in the same way he highlights any text on an iOS device. That's just tapping and holding the first letter of the text he wants to highlight until the bubble appears. Then the user drags his finger across the display of his device to the last word you wants to highlight and lifts his finger to finish.  You can tap inside the highlighted area to bring up a tool bar to change the highlight color, or tap the yellow X to delete the highlight.
To take notes while reading a book using the Kindle app on the iPad just tap the text on the display until the bubble appears. Highlight the text you want to comment on. Once the text is highlighted just tap the highlighted area to bring up the tool bar. Tap the paper and pen icon in the tool bar and type using the onscreen keyboard. The rectangle icon with arrow allows the user to share the highlighted text on Facebook or Twitter.
­See also:
Apple Encyclopedia: all information about company, products, electronic devices, operating systems and apps.
iGotOffer.com: the best place to sell my used iPad online for the top price. Free quote, free shipping. BBB A+ rated business.
<!-comments-button-->