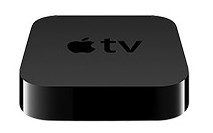 How to Factory Reset Apple TV
If you decide to sell old device
How to factory reset Apple TV: If you decide to sell or donate your old Apple TV, you can wipe the device so any sensitive account data will be erased.
It can be accomplished in two ways. If the device is working properly, you can reset it from the settings: boot the unit up, then go through the menus: first click on "Settings" from the main menu. Once there, click on the very first option: "General". On the "General" options screen, scroll all the way to the bottom and choose the "Reset" option. You'll see three options on the screen: Cancel, Restore (this option completely wipes your device clean and restores the unit to factory new. Besides, all software updates will be downloaded and installed), and Reset All Settings. This option allows you to reset your accounts and configuration.
Alternatively, you can use iTunes to quickly erase all the data. Using iTunes can also be done when your Apple TV is unbootable for any reason or it isn't operating properly. For this, connect the device to your computer: First, unplug your Apple TV, then plug a mini USB cable in the back, right below the HDMI port. Then connect it to a USB port on the computer. Next, plug the Apple TV back in. iTunes should recognize it. Just click on "Restore Apple TV" – on the next screen choose "Restore and Update" button. This option will download and install the latest version of the Apple TV software. Now you can disconnect the Apple TV from the computer. Reconnect the device to your HDTV and it should now boot and work properly.
Finally, let's say that it's good to know how to factory restore the Apple TV. If you get tired of the device and decide to sell it to iGotoffer very fast, easily and for the best price online, you don't want to ship it with sensitive account information.
Links:
Sell Apple TV for the highest price online. Free instant quote, free shipping, fast payment: Sell Apple TV.
<!-comments-button-->