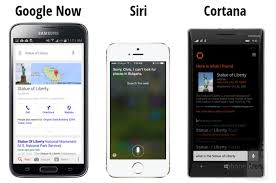 Siri vs Cortana: Which is the Funniest Assistant?
Automation and speech recognition are doubtless part of the widespread popularity of the iPhone.
Alternatively, Android is not exactly Windows, but Microsoft's Cortana could appear on the alternative mobile phone platform. Further, Google Now is also an alternative to staying in the know in real time. Thus, automation is largely defined as the use of robotics or automated equipment during manufacturing processes. Indeed, robots replacing humans as the primary labour force has been discussed at length in science fiction novels. But how close are we to Artificial Intelligence (AI) in real life? To date there are no known cyborgs in the real world. However humanoid robots have been developed in South Korea and Japan. Further, cybernetics are a dynamic science, which already allows such feats as speech recognition.
Therefore, from "The Terminator" to "The War Games", dangerous and ill intentioned computers rise against humans. Indeed, many people are preoccupied by the rise of the machine. Some state that within the next decade we will see a machine more intelligent than mankind, capable of ruse and world domination. Regardless, while perhaps far from being able to take over the world, Apple's Siri and Microsoft's Cortana are intelligent systems capable of speech recognition. Apple's Siri needs no introduction, as it has been widely popularized not only by the undeniable success of the several versions of the iPhone since its inception. It's been mentioned lots of times in the popular media. For example, in the TV series The Big Bang Theory, one of the characters literally falls in love with Siri, in accordance with the show's humorous take on people's close relation to technology. So, Siri and Cortana, who wins? This is the question.

Further, Apple fans and iPhone users know the facility of interacting with Siri. All you have to do is dictate a command into your mobile device. Siri will reply with the nearest coffee shop, subway station or local hairdresser. However, the speech recognition pattern is not always perfect, which is why it is recommended to accustom your speech recognition device to the way you talk before practice makes perfect. Nonetheless, the environment has a lot to do with how well Siri recognizes accurately what you sai. If you are speaking in a quiet place success is likely to be far greater than in a crowded room. Still, speech recognition provided by such digital assistants as Apple's Siri and Microsoft's Cortana make life easier for a lot of us. Also, apparently the next step in this type of technology is visual speech recognition or lip-reading by computers.
For the time being, scientists continue to work on progress in this area. The question "Siri and Cortana", who's better, remains open.
­See also:
Apple Encyclopedia: all information about products, electronic devices, operating systems and apps from iGotOffer.com experts.
iGotOffer.com: the best place to sell my used iPhone online. Top cash guaranteed. Free quote and free shipping. BBB A+ rated business.

<!-comments-button-->