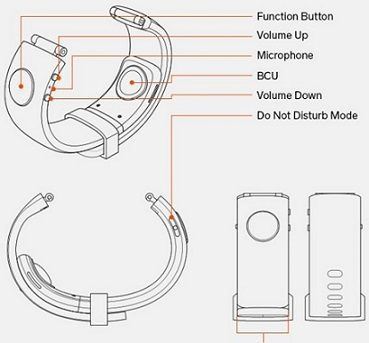 Sgnl: Make Phone Calls With Your Fingertip, literally
The Smart Strap
Yes, you can make calls just by placing your fingertip on your ear, thanks to Sgnl, the wearable smart strap connected with your watch. Simply place the fingertip to your ear to listen and speak through the embedded microphone. You can use Sgnl whether you wear a classic watch or an Apple Watch, Samsung Gear, Pebble Time or any other smartwatch. Your finger not only transmits the sounds but also blocks out background noise. So while speaking over the finger you hear very clear voice just as talking over a common cell phone.
With Sgnl, users keep their cell phone alone in their pockets and lift their hand to answer a phone call without carrying any headset or earphone.
How Sgnl works? The device uses the Sgnl App which receives voice signal from the phone through Bluetooth. At this moment Sgnl generates vibration through its Body Conduction Unit (BCU). BCU transmits the vibration from the watchband to the fingertip. When the user places his or her fingertip to the ear, the vibration creates amplified sound within the closed space of the ear.
There is no risk of harm to the human body related to the use of Sgnl, this new watch companion. As we have already said, the gadget is designed to fit all sorts of classic and smart watches.
Sgnl can be used on both the left and right hand (just ensure that Sgnl main body & Sgnl band are attached in the same position in relation to the watch face).
­See also:
Apple Encyclopedia: all information about products, electronic devices, operating systems and apps.
iGotOffer.com: the best place to sell your old iPhone online. Top cash guaranteed. Free quote. Free shipping. BBB A+ rated business.
Sgnl. Function Button, Volume Up, Microphone, BCU (Body Conduction Unit), Volume Down, Do Not Disturb Mode

Copyright © 2016 iGotOffer.com. All rights reserved.

<!-comments-button-->