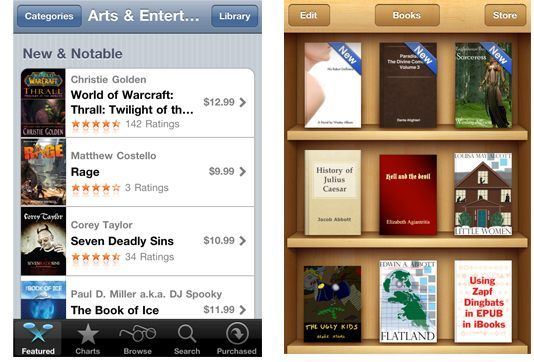 Sync books on your iPhone, iPad, or iPod touch
On the Books screen, of your iPhone you can manage how iBooks files, audiobooks (ebooks) and PDF files are synced to the device:
To enable the syncing of books and related files from your hard drive to your iPhone you must check the box Sync Books. The other boxes below will light up immediately. Now you can select individual books. Just select the books you want to sync and check the box next to each book. You can also choose between All/Selected Books. Logically enough, the All option will automatically sync all books to your iPhone while Selected will allow you to control which books get synced. Obviously, if you choose Selected books, you should check the box next to each book you want to sync.
Now, keep in mind that you can sort options:  using the drop-down menus under the Books heading, you can sort files by type, that's you can choose between Only Books, Books and PDF files, Only PDF files, as well as by title/author.
Below the Books section is the Audiobooks section. Syncing options for Audiobooks work the same way as for "printed" books.
As always, when you're done choosing all your settings, click the Sync button at the bottom right. Your smartphone will resync  with iTunes. All your content will be updated based on the new settings you've just created.
Finally, let's tell you that while there are lots of ebook apps that allow you to buy and read ebooks on your phone or iPad, there are many ebooks available on the web which you can download for free.  For example, a great source for free literature in the ebook format is Project Gutenberg, which offers dozens of hundreds of public domain ebooks. After you had found an ebook in the Net, just drug its file to the tray at the left hand of the iTunes window. This will automatically add the ebook to your iTunes library (Check the Book menu to make sure this has happened). Once the ebook is synced to your device, go to the iBooks app and tap on the icon for the new book on the bookshelf.
­See also
Apple Encyclopedia: all information about products, electronic devices, operating systems and apps from iGotOffer.com experts.
iGotOffer.com: the best place to sell my used iPad online. Top cash guaranteed. Free quote and free shipping. BBB A+ rated business.
<!-comments-button-->