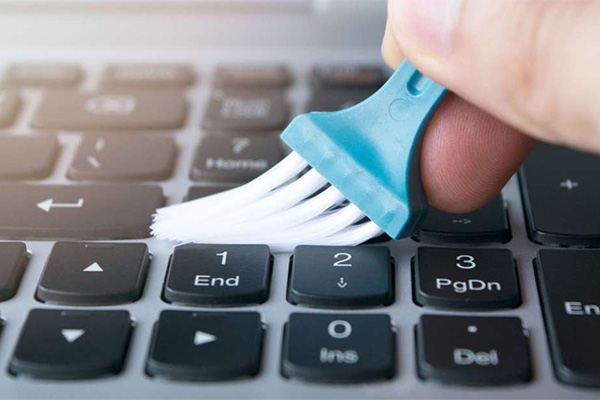 I Am Pressing The Spacebar and Nothing Is Happening [Video]
Video uploaded by Jonathan Mann on October 18, 2017.
Apple Patented the Anti-Crumb Keyboard
A keyboard is the most fragile part in modern laptops. A spilled glass of soda or a few cookie crumbs can kill your working tool as if you hammered it with a brick. Some laptops are more prone to that plague than others. The winning award of most fragile keyboard would definitely go to Apple's MacBook Pro.
It's much touted 'butterfly' keyboard can collapse in less than eight weeks. The problem proved to be so frequent that a user named Jonathan Mann composed a song in which he compared the cleaning of the keyboard with extensive surgery.
Apple posted a detailed manual how to clean the keyboard with a compressed air can, but it wasn't enough. So Apple's engineers came up with the Ingress prevention for keyboards and patented it. In fact, there are only two ways to avoid any problems: either seal the keyboard or remove crumbs and dust specs that are already inside it. You can use one of them or both, or you can stop eating cookies. No longer eating cookies is of course out of question.
The first way involves flaps and gaskets around the keys or a kind of membrane that isolates the internal mechanism from hard particles and sticky liquids. Silicone will do, as it is waterproof, elastic and can be made hair-thin.
Then, you can tackle the annoying crumbs! Apple suggested, it can feature key movement mechanism with knobs and spikes. Sorry, with iKnobs and iSpikes, of course. It can be very handy. What do you do when you find out that a key doesn't press? You probably try to hit it harder and harder. With the iSpikes inside, not only can you vent your rage but you can also get rid of the problem! A nice two-in-one solution.
Of course, the milled crumbs will have to be removed the same way. So Apple added holes to the design. If the crumbs don't escape through them, a good old pressurized air can and a bit of shaking will help. In the 21st century we don't need to do it all manually. The fans, transducers, haptic actuators, and speaker membranes integrated in the keyboard all help the cleaning process.
"Acoustic devices may resonate at frequencies that break up lodged contaminants and/or drive contaminants away from key assemblies," Apple explains.
Sadly enough, this crumb-removal technology is still miles away. So, the only realistic method is using the air can.
How to Get Rid of Crumbs and Dust
Power off your MacBook. Or you can use the Anti-crumb Keyboard Cleaner app that locks the keys and screen for a bit.
Hold it open at a 75-degree angle, so it's not quite vertical. You will have to do this with one hand because you will need your other hand to do step three. A better choice would be to ask a friend to help you as well.
Use the compressed air to spray the keyboard, or just the affected keys, in a left-to-right motion.
Rotate your Mac notebook to its right side and spray the keyboard again, from left to right. (You most likely will need an assistant to do the trick!)
Repeat this action, this time with your Mac notebook rotated to its left side.
The real question is, how often will MacBook Pro owners need to perform this extensive cleaning process?
Links
<!-comments-button-->