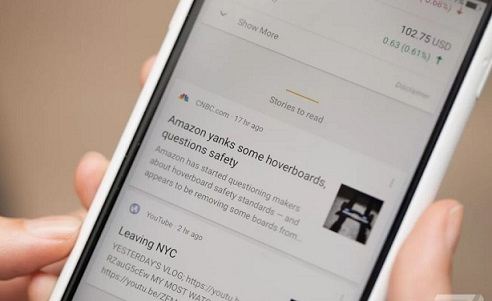 Google is Changing Now
If you're a minimalist, hurry to screenshot the Google start page now! It is about to change forever.
The snow-white page with the accurate search window, topped by a Doodle is going to change drastically. Google is bringing the mobile approach to desktops. Android phones users as well as those of Google Pixel, have probably already gotten used to customized Google feeds on their home screens. Now, the customization comes to large systems as well.
Shashi Thakur, vice president of engineering at Google, promised that the start page will soon show highlights of the day, top sport and political events, entertainments, social media feeds and videos. The content will be determined by a user's interaction with Google plus, as well as information gathered by personal search history, as well as local news from around the user's location.
None of this is new, however. Yahoo!, the search engine pioneer, featured the start page customization in the end of 1990s. The MSN page was quick to follow suit. But, users had to add the relevant subjects manually. If I remember it right, while setting the start page view, you had to check the subjects that interested you from a long list of options. Also, MSN could see your country by IP, which more or less rounded up the customization possibilities. This was the status quo, preserved up until recently, when machine learning was introduced.
Google didn't miss the trend back then either. Up to 2005, it featured a Google Personalized Homepage. But, in May of this very year, the iGoogle personal web portal was launched. It lived up until November 2013, when the company pulled the plug on it. Until it was closed down, iGoogle had localized versions available in 42 languages, and in over 70 countries. The peak figure of users visiting iGoogle made 20% of all the Web surfers in 2008. At that time, desktops were still the primary devices used for web browsing in the Western world.
The widgets iGoogle used, were:
"Framed Photo" – displayed pictures and photos.
"GoogleGram" – created daily messages.
"Sidebar" – middle school chat rooms
"Daily Me" – the grandfather of emojis to show user's current mood and feelings.
"Free Form" – for posting texts and pictures.
"YouTube Channel"
"Personal List" – a list of personal items
"Countdown" – a countdown timer (can't see who'd need that one)
"Daily Literary Quote" – showed literature-related quotes served up by ModeRoom Press.
"Meteo-si" – displayed the current weather and the weather forecast for selected area(s)
"eBay Gadget": searched for items on eBay
Not that those gadgets or widgets are gone, (most of them are still available as browser extensions) but, they aren't displayed on the page and have to be manually installed if you want them.

The new version of the customized start page is working on machine-learning. Google is processing the big data; which includes your search, frequently visited pages, Facebook friends and accounts and so on. If you're a Chicago Cubs fan or love cross-stitching, you will get to see the matches recaps, the weather forecast for the nearest Sunday, a list of hand-made shops in your area, or hand-made video-guides all over your starting page.

The info will be organized as interactive cards and obviously, the info will be updated every minute, based on your activity online. If the voiced controlled Google Assistant is coming, still remains a secret. The US users are going to get the feed update immediately, with the rest of the world to follow within two weeks. It's still unknown if the Doodles get to stay. They have become a nice and informative feature of Google as we know it. I'll be sorry to lose them, if they are removed.

<!-comments-button-->