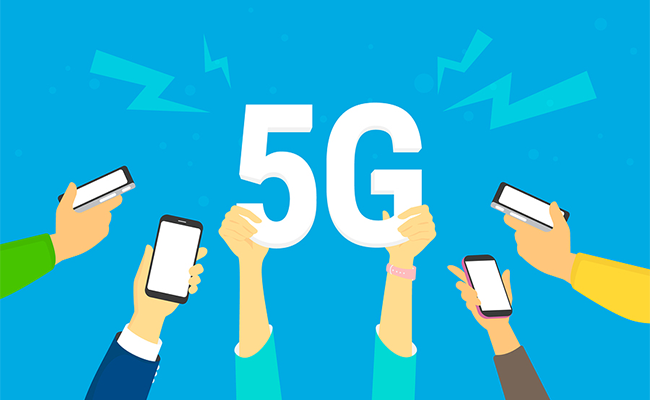 What is 5G? | CNBC Explains [Video]
Video uploaded by CNBC International on March 29, 2018
Wireless Internet and the Future of 5G Technology
The future of the wireless Internet is progressing rapidly, with the latest 5G technology in particular set to drastically change the world as we know it in the near future. Be it significantly higher download speeds, which will be about 30 to 50 times faster, latencies of less than 1 millisecond, compared to about 15 to 60 with 4G, or even substantially more connection points, which allows a considerably increased number of devices to be linked to the 5G network: 5G has come to stay and will not only ensure that our world becomes more and more connected, but that any digitized processes also run faster, more efficiently and more simply.
An important keyword here is "Internet of Things" (IoT), which describes a system in which numerous electronic devices communicate with each other via interfaces and connecting elements, exchange data and thus guarantee more efficient processes in all areas of life. Verizon, the largest U.S. mobile operator, says that there are currently about 8.4 billion "things" connected worldwide, an increase of 31% compared to 2016. With the support of the new 5G technology, this figure is expected to reach about 20.4 billion devices by 2020.
The big race
As the 5G technology seems to be very promising and is likely to make a lot of money, there are of course many tech companies worldwide, but especially within the US, creating solutions for the future wave that will spill over America and power the whole infrastructure with the 5G technology.
This is particularly interesting in the sense that the American company Qualcomm, for example, has had the patent for the CDMA technology for many years, which is used for both 3G and 4G, and will also be used for 5G in the future. This technology enables a smartphone to send and receive data, which is why Qualcomm has been earning money on every sale of a smartphone for years, whether from Apple, Samsung, Huawei or other brands.
Qualcomm will release the Snapdragon 855 chip at the end of this year, which will not be equipped with the 5G-enabled X50 modem, but can be connected to it and still use the new 5G technology. The new chip will be equipped with the X24 modem, which can be connected directly to an X50 modem via Qualcomm's Fusion Platform to use 5G technology. The Snapdragon 865, already announced for next year, will be the first chip with an integrated 5G modem based on a 7nm design. This two-chip solution is expected to increase the power consumption of smartphones, which will pose problems for manufacturers, although this issue might be relativized by the use of the new 7nm design.
Qualcomm is likely to be a big player in the 5G wave in general, so it's worth keeping a close eye on the company in the future if you're interested in following the progress of this new technology. According to RiskHedge's chief analyst Stephen McBride, Qualcomm will also be a very interesting investment opportunity in the future, as he states in an article published on the Forbes business magazine's website.
Of course, other tech companies will also try to get their shares from this future giant market, so we can definitely look forward to seeing what 5G technologies will await us in the near future.
Verizon's advance in the US market
Although it is often said that 5G service will not reach society until 2020, the largest U.S. mobile communications company Verizon is already making its first installations in selected areas: For example, currently in Houston (TX), Indianapolis (IN), Los Angeles (CA) and Sacramento (CA). So far, this "only" affects the broadband market, where existing Verizon customers in the aforementioned cities can currently take advantage of an offer in which the first three months are free of charge and only then must a monthly fee be paid. The product will be sold under the name "5G Home" and the campaign is designed to encourage customers to implement the new technology in their homes.
Verizon is therefore a pioneer in this field in the U.S. market and is already taking a major step towards the widespread adoption of this new, promising and efficient technology.
As a result, Verizon customers in these areas can already access the new 5G service, and thus all the benefits such as higher speed, lower latency and increased connectivity.
But that's not all: Verizon also plans to offer 5G technology for smartphones for the first time in 2019, making the company one of the pioneers in this field in the U.S. market. However, the first mobile network with the global mobile standard will probably be the one from AT&T that has already been announced for the end of this year. The first mobile 5G network will then be available in 19 American cities, so we are curious to see how successful the roll-out of the network will be. The 19 cities are already known, including Houston (TX), Jacksonville (FL), Atlanta (GA) and San Antonio (TX). At the beginning of next year Los Angeles (CA), Nashville (TN), Orlando (FL) as well as Las Vegas (NV) and some other cities will follow.
It is also expected that other cities will be added to Verizon's broadband offering in the near future, so it is always a good idea to keep up with the latest news if you are interested in using 5G services. Larger cities naturally have a better chance of being the next locations for Verizon's rollout. In this regard, it's easy to enter your email address and phone number on Verizon's website to get any news about the area you live in in a timely manner.
The first 5G smartphone to be offered by Verizon may be the Moto Z3, which will be given an add-on to make it 5g compatible soon.
Politicians also support 5G technology
At the end of September, there was also a meeting in the White House on 5G technology, attended by numerous political representatives as well as those from the four largest mobile phone companies in the US; Verizon, Sprint AT&T and T-Mobile. One of the issues discussed was how to increase private investment in the mobile industry. The Trump administration seems to be 100% behind the new technology, which is another indication that 5G will play a very important role in our daily lives in the future.
Another aspect that seems important from a political point of view is, among other things, that an appropriate infrastructure must be created in order to make it as easy as possible for mobile phone companies to roll out the technology.
However, this rapid expansion of the infrastructure is already leading to some resistance on the part of the population and local governments: This is because 5G technology requires the construction of numerous small antennas instead of a few large ones, as is the case with 4G. The reason for this is that 5G masts don't have as much range as 4G ones, so several of them have to be placed closer together.
This, of course, also requires many new areas to be accessible, which means that mobile operators have to apply to the relevant authorities for the use of many new locations in order to place their antennas there.
For example, the mayor of Santa Barbara in California, Cathy Murillo, mentions the following:
"The proposed "shot clocks" would unfairly and unreasonably reduce the time needed for proper application review in regard to safety, aesthetics, and other considerations. By cutting short the necessary review period, the proposals effectively shift oversight authority from the community and our elected officials to for-profit corporations for wireless equipment installations that can have significant health, safety, and aesthetic impacts when those companies have little, if any, interest to respect these concerns."
This statement was made in response to an order from the Federal Communications Commission, which states that applications must be processed more quickly in order to accelerate the continued expansion of the infrastructure necessary for 5G technology. This happened at the end of September, which is a further indication that the government not only does not want to put any obstacles in the way of mobile phone companies, but actively supports the implementation of 5G technology.
This decision was approved by all 4 commissioners, with local governments now having only 90 days to make decisions on new masts. For the expansion of existing facilities, the new deadline is now 60 days.
This also led to the administrations of large cities such as Philadelphia (PA), San Francisco (CA) and Los Angeles (CA) writing to the Commission to express their concerns on the new regulation. Philadelphia, for example, wrote that control over the placement of masts is "essential in order to effectively protect the health, safety and welfare of the city's over 1.5 million residents and 43 million annual visitors".
But even these protests will not stop the success of 5G technology. Quite the opposite: in the next few years, a widespread market launch in all areas can be expected, and solutions for the previously mentioned conflicts will certainly be found.
So we can be very curious to see how the use of 5G Home from Verizon, which is already possible in 4 cities, as well as the roll-out of AT&T's 5G technology for mobile networks and the responses of other mobile phone companies in the US will develop. Digitization, 5G Technology & Internet of Things – the future will definitely be exciting!
Links
<!-comments-button-->