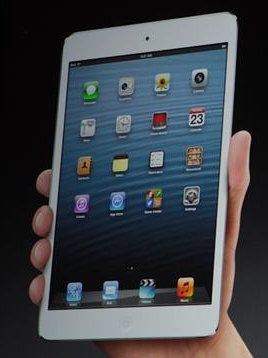 Apple Could Drop iPad Mini Price to $225
According to Citi icg.citi.com analysis Apple could drop their price for iPad mini and sell it as low as $225 to compete with the affordable Android devices.
On October 22, 2013 Apple announced its iPad mini 2 at the Yerba Buena Center for the Arts, in a keynote named "We still have a lot to cover". On November 12, 2013, Apple released the iPad mini 2 in Space Gray and Silver colors. Almost a year later, on October 16, 2014, Apple introduced the new version, the iPad mini 3. This model featured the same internals as the iPad mini 2, but it added Touch ID. Its storage sizes differed, and a gold color was added.
The iPad mini 2 came with the iOS 7. Apple engineers described it at the time as an operation system "bringing order to complexity and highlighting features such as refined typography, new icons, translucency, layering, physics, and a gyroscope-driven parallax adding some of the major changes to the design."
The iPad mini tablet is the second generation iPad mini computer. Developed, produced and marketed by Apple, iPad mini's design is almost identical to that of the first generation of Apple's iPad Mini. The tablet features however internal revisions. For example, the A7 system-on-a-chip was added to its structure, as well as a 2,048 x 1,536 resolution Retina Display.
The iPad mini 2 has nearly the same hardware as the iPad Air, even when the latter is larger. iPad mini 2 can act as a hotspot with some carriers, sharing its Internet connection over Wi-Fi, Bluetooth, or USB. It can access the Apple App Store, and many apps like GarageBand, iMovie, iPhoto, and the iWork apps, such as Pages, Keynote, and Numbers are available on this iPad. In addition, the iPad mini 2 has a Bluetooth function. This allows the user to access a wireless keyboard that can be used in Apple Pages or any writing program that needs editing.
The iPad Mini 2 came with pre-installed applications, among them users can find Siri, Safari, Mail, Photos, Video, Music, iTunes, App Store, Maps, Notes, Calendar, Game Center, Photo Booth, and Contacts.
Like all iOS devices, the iPad mini 2 can sync content and other data with a Mac or PC using iTunes. According to Wikipedia, although this tablet is not designed to make phone calls over a cellular network, users can use a headset or the built-in speaker and microphone to place phone calls over Wi-Fi or cellular using a VoIP application, such as Skype. The tablet has a dictation application, using the same voice recognition technology as the iPhone 4S. Users can speak and the iPad types what they say on the screen. Although the iPad must have an internet connection available due to the feature's reliance on Apple servers to translate the speech.
The iPad mini 2 has an iBooks application, which displays books and other ePub-format content downloaded from the iBooks Store. Many major book publishers including Penguin Books, HarperCollins, Simon & Schuster and Macmillan have committed to publishing books for this device. Siri is also included.
On June 2, 2014, Apple announced that the iPad mini 2 would receive the iOS 8 update, and on June 20, 2016 Apple announced that the iPad mini 2 could now support the iOS 10 update.
See also:
Apple Encyclopedia: all information about company, products, electronic devices, operating systems and apps from iGotOffer experts
You can sell used iPad at iGotOffer.com. Free shipping. Top cash guaranteed.
<!-comments-button-->