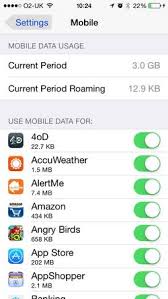 Cut Down Data Usage on Your Smartphone
The cellular industry likes to rollover your data usage each month, as most carriers charge for data, and as streaming services, apps and social media sites become more data hungry, the cost goes up. Here we depict some ways which help you shave those crucial bytes off the bill:
1)Monitor your data usage: Monitoring data levels is the easiest way to keep within your monthly allowance. If you are using iPhone, go to Settings > Cellular > Cellular Data Usage. You will see there how much cell data you consume, but the figures may need to be reset at the start of a new billing cycle in order to be accurate. The figures next to the various apps will also show how much data these apps have consumed. Obviously, the higher the data consumption, the more careful you need to be with that app. For Android, go to Settings > Data Usage > and select the dates next to "Data usage cycle" to match your billing cycle. You can choose the option "Set Mobile Data Limit" so that it matches how much data you have with your plan. Once you hit the limit, apps will use Wi-Fi to download data. You can also see which apps are more data intensive.
2)Prevent background app, content downloads Apps often churn up a considerable amount of data. To prevent background downloads, for iPhone: Go to Settings > iTunes & App Store > and disable any of the items under "Automatic Downloads." (music, apps, books, updates). You can also keep them on but have them update over Wi-Fi, by disabling the "Use Cellular Data" option. For Android users: Go to Google Play Store in the app menu > Settings > Untick "Auto-update apps". This option prevents apps from updating over the air. Alternatively you can keep this ticked, but chose "Update over Wi-Fi only" by selecting the corresponding box.
3)Search for mobile versions of websites: Today, most websites come with mobile-optimized versions that are designed for smaller displays, like for smartphones and tablets. These sites use fewer graphics and ads. They generally are optimized for lower-bandwidth devices. Most websites will redirect to the mobile site when you visit on a mobile device. If it doesn't, you can either add "m." or "mobile." before the domain name.
4)Avoid streaming music, video on the go: One of the most intensive data consumers is video and music (iTunes Radio, YouTube, and other streaming services). One video can churn up your monthly data plan.
5)Try a compression-enabled browser: Some mobile browsers have a data compression mode. Opera Mini, available for Android, iOS is designed to compress data and reduces your overall data usage. Browsers like Google Chrome can save up to 50 percent of bandwidth.
6)Use Wi-Fi whenever it's available: Many users don't know that when you use Wi-Fi, every bit and byte of data that you use, with the exception of a few cellular-related things run through Wi-Fi network. That means you can download large movies and music files without having to compromise your data plan. Wi-Fi should be left on for as long as possible, as it will remind you to connect to a network when one becomes available.
­See also:
iGotOffer.com: the best place to sell my used iPhone online. Top cash guaranteed. Free quote and free shipping. BBB A+ rated business.
<!-comments-button-->