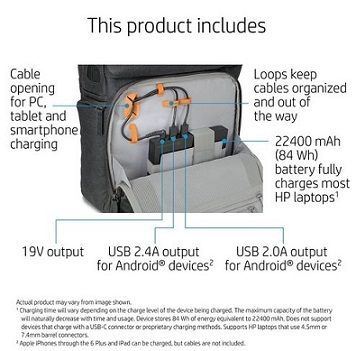 HP Powerup Backpack: Get Past Your Fear of a Low Battery
HP announced its first intelligent backpack, which is supposed to charge your smartphone, laptop (up to 17.3 inches), or tablet. The smart Powerup Backpack can charge your laptop or tablet up to 3 times, and your smartphone up to 10 times. It includes a 22400 mAh battery and charges all Apple iPhones and iPads. It also works with most HP laptops and Android devices (as long as they don't feature USB Type-C connectors, or other charging methods).
The new backpack features strong straps and canvas, as well as a raincoat. It comes with a built-in heat sensor that monitors its temperature and automatically adjusts it. It meets security requirements for in-flight carry-ons. You can see this attractive backpack in action in the official HP video (see below).
The Powerup Backpack will be available on October 1, 2016. It can be pre-ordered on Amazon.
However, the price for the Powerup is high, maybe too high, as the introductory price announced by HP is $199.99 USD. In fact, you can find a powerful portable charger (power bank) on Amazon for $50 USD or less. Just put it inside your common backpack for a DIY smart backpack! You certainly can use the smart backpack you design yourself on a day hike. No heat sensors will be available and you'll have to add your own raincoat for a rainy day, but it is much more cost effective than this amazing gadget. You can also choose the backpack's dimensions to better suit your needs.
However, for a long trip in the woods, or any situation where you will be away from a power source for an extended period of time, this Powerup backup might be useful.
www.youtube.com/embed/fA0I5HhNzbc
­Some Other Power Backup Options
The CyberPower CP685AVR covers the basics for most people during common, short blackouts. It provides enough power to keep the average cable or DSL modem and Wi-Fi router running for an hour. This means the user can stay online to pass the time while the lights are off. In a real emergency, it is possible to keep a phone charged so the user can reach the outside world. At the size of an overgrown surge protector, the CP685AVR is small enough to hide in the same corner as your networking gear. Since it has surge protection built in, the user will have one less thing to buy. Although it is possible to spend more on a UPS, users really have no reason to if they need only basic, noncritical protection and a limited amount of power.

The APC BE650G1 Back-UPS is the closest competitor. It seems that the CyberPower lasts longer and stays truer to its stated rating, but the difference would be less than five minutes of uptime on average—59.6 minutes of power versus 55.8. The similarities between the APC and the CyberPower don't end there, as both units have surge protection on all eight outlets, with four of those outlets covered by the battery-backup protection. Both units lack any sort of status display, though the user can monitor and manage either device by connecting it to your computer via USB and installing proprietary software. The two systems have the same three-year warranty. The CyberPower is our top pick, and it's often a few dollars cheaper, but if you can get the APC BE650G1 for less, it will serve you just as well.

See also:

<!-comments-button-->