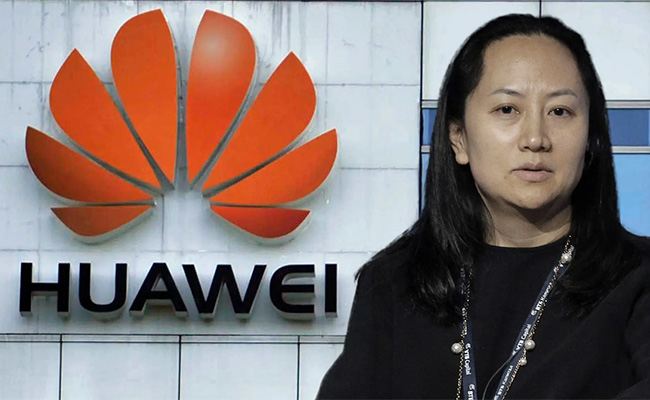 Huawei CFO arrest stokes fears of trade war between China & U.S. [Video]
Video uploaded by CBS News on December 7, 2018
Huawei CFO Meng Wanzhou Arrested in Canada. Is This a War Over 5G ?
On December 1, Huawei CFO Meng Wanzhou was arrested in Vancouver, Canada, and now faces extradition to the United States.
Meng Wanzhou (or Sabrina Meng) is the daughter of the Chinese telecom giant founder Ren Zhengfei. The 46-year-old woman also worked as the international accounting head and Accounting Management Department director. Now if the U.S. Justice Department is looking for a person who controls the Huawei financial system and possesses insider information about the company's secret deals, they have found her.
The detention was confirmed Wednesday, December 5, and a bail hearing occurred Friday, December 7 (see breaking news below). Canadian Justice Department spokesman Ian McLeod would not reveal the case details, but mentioned that Ms. Wanzhou faces unspecified charges in the Eastern District of New York. Presumably, Huawei is accused of violating U.S. sanctions on Iran. Company representatives, however, deny any allegations. A corporate spokesperson stated, "The company has been provided very little information regarding the charges, and is not aware of any wrongdoing by Ms. Meng."
The unexpected detention has sent stocks plunging, and has escalated the American-Chinese trade war. China's Ministry of Foreign Affairs has already called for Meng's immediate release. Why did Trump's administration make such a serious move?
We believe it's the first war between a state and a corporation over technology—to be specific, over the 5G network. In a couple of years, this new telecommunication standard will be a crucial part of the smart environment that will determine our security, from smart homes and driverless vehicles to civil and military communications. Here's where Huawei comes in. The company pioneers many communication technologies in Asia and Europe. It sells the 4G and 5G equipment to Great Britain, the Netherlands, the Russian Federation, New Zealand, and Australia. Their 5G cell towers feature backup graphene batteries, the ones with the longest service life. The first 5G networks have already been deployed around the world, and these networks are equipped by Huawei. The Chinese giant had been nothing short of a 5G network monopolist until recently, when it suffered a significant blow from the USA.
Chiefs of security agencies accused the tech giant of leaving backdoors in their mobile chips for spying. Huawei is one of the few mobile companies that develop and manufacture proprietary mobile CPU. Huawei Kirin chips can compete with the latest products from Qualcomm, Samsung, and Apple, and they're found exclusively in Huawei mobiles, routers, and network equipment. Immediately, the company was shut out from the American telecommunication market and negotiations were canceled midway. Government employees were warned against buying Huawei phones, the Democratic National Committee issued the same warning for candidates running in the November midterms, and now President Trump is trying to persuade our allies to ban the Huawei telecommunication equipment, as we did.
Considering these facts, the detention of Meng Wanzhou looks like an attempt to axe Huawei's financial independence. The violation of sanctions is no more than an excuse. Curiously, another Chinese telecommunication giant, ZTE, faced the same accusations earlier this year. But the ban was lifted in July, after the company agreed to replace its senior officials and pay fines. Nevertheless, ZTE, like Huawei, is connected to Chinese state agencies in many ways. When it comes to large, hi-tech corporations, the specific nature of Chinese capitalism makes such ties inevitable. We just wonder why one company got through the needle's eye and the other failed.
BREAKING NEWS AS OF DECEMBER 7, 2018
Meng Wanzhou was charged with conspiracy to defraud banks. The bail is set high, as the judge suspects that she could can flee the country. The problem is that no amount of bail is large enough to prevent Wanzhou from being a flight risk. As the Crown lawyer put it, "To feel the pull of bail, we are in a different universe in this case."
Update on December 10, 2018:
Meng Wanzhou's Arrest Aftershock
Sabrina Meng Wanzhou, the CFO of the Chinese telecom giant Huawei, faces 30 years of prison for defrauding U.S. banks. She allegedly approved the creation of an intermediary firm called Skycom to skirt the sanctions against Iran.
John Gibb-Carsley, the lawyer representing Canada's attorney general, expressed his doubts about the detainee's behavior during Friday's bail hearing . He doubted there was a sum big enough to prevent Ms. Meng from fleeing the country once the bail was paid. David Martin, Ms. Meng's local attorney, brought up the Chinese conception of "face," to emphasize the fact that the Huawei top officer would do nothing to shame her father and country. Still, the hearing was suspended until Monday.
South China Morning Post, a large Hong Kong paper, published a detailed report from the courtroom, comparing Sabrina Meng to a golden fish in a bowl. Indeed, the detainee was seated in a bulletproof glass booth built for the terrorists' trial several years ago. Her army of lawyers, of which David Martin was just one soldier, occupied two rows. The local Huawei upper-level managers were also present, as well as two Chinese men in well-cut suits, with Chinese flag pins on their lapels. Even if the surprise arrest was a serious blow, the Meng team never showed it.
This arrest, which took place in the wake of successful American-Chinese trade negotiations, could lead to many grave consequences, both economic and political. (President Trump and Xi Jinping struck the 90-days truce on additional tariffs on December 1. The timing of the arrest was brilliant or disastrous—it depends on the way you see it.)
The Chinese government already demanded the release of Meng Wanzhou, and clarification of the accusations against her in her role as Huawei's top officer. Still, China's main pro-state paper, Zhenmin Zhibao (People's Daily), published the news of her arrest in its business section. For now, Beijing's official stance is that they consider it a business-related incident, but users' comments are much more ardent. The netizens call Ms. Meng a hostage and demand retaliation. "Two can tango," as one of them put it. You have to remember that in China, public message boards are moderated strictly, so if such hostile comments aren't deleted, they must express a hidden agenda.
Former assistant U.S. trade representative Jeff Moon is one expert who is rather pessimistic about the prospects. He stated that any American company operating in China is now in a very vulnerable position. According to his words, China regulations are too murky and vague for secure business operations, and Chinese officials can now easily crack down on any target they see fit. Cisco Systems, Inc., the telecom equipment maker, already e-mailed a warning to employees who were planning to visit mainland China; however, the company representative stated it was sent in error, and the company will not ban travel to the country.
Nevertheless, many IT entrepreneurs feel uneasy, even in Hong Kong, that now belongs to China as well. They are afraid that once Ms. Meng is extradited to the USA, things can start getting out of control. The tariffs war alone was enough to make many American companies worry about their supply chains. For example, Apple—together with its lifelong contractor Foxconn— is reportedly moving factories to Vietnam. Still, the situation can worsen if China decides to play rough and detain Western companies' CEOs or denounce trading treaties. This will throw the industry logistics under the bus.
And what for? For a chance to take the lead in the 5G race? In the next article, we'll dive into the subject and show you the hidden strings. Stay tuned!
Links
<!-comments-button-->