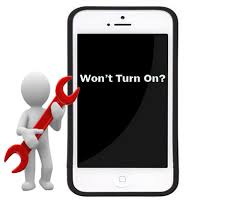 What to Do When Your iPhone Won't Turn On
iPhone Won't Turn On: This has happened to everyone: You press the POWER button on your iPhone, iPod or iPad, but nothing happens. The screen remains black, the device doesn't respond to buttons, switches, or touchscreen input. It may exhibit one or more of these symptoms, even when you press the Home button a few times. It doesn't wake from sleep after you press the Sleep/Wake button. It just appears frozen or unresponsive to any command, such as "Slide to Unlock" or "Slide to Power Off".
As a rule, the solution is at hand: either the iOS has crashed and needs to be rebooted or your battery has run down.
To get your device working again in a few seconds, the following steps are necessary:
1) Unless you are certain that there is plenty of charge left on the battery, connect the phone to a wall charger for at least twenty minutes. See if the device turns on and continue charging it until the battery is fully charged. Well, if it was a low battery that caused the problem, the phone will come on by itself. If it won't, go to the next step.
2) Hold the HOME and POWER (aka SLEEP) at the same time. An Apple logo will appear in 10 – 20 seconds. Now release the buttons and wait about a minute. The iPhone should be back to normal.
If just holding the two buttons doesn't work, toggle the Mute switch a couple of times before step 2. Sometimes it helps.
You may also get an error message, or a picture of a USB plug, a iTunes or a persistent Apple log may appear on the screen. In this case you will need to restore your phone with iTunes: connect the device to your computer and open iTunes. If the device appears in iTunes, select and click Restore on the Summary pane. If the device doesn't appear in iTunes, try to force the device into recovery mode. Then restore it. If these steps do not resolve the issue, contact Apple (the firmware might be corrupted or a mechanical problem has arised).
If nothing of the previous works, either your cable or your charger are defective, or your phone is broken. Try then different cables and chargers to isolate the problem. (If you are using an iPad, ensure that it's connected to the USB Power Adapter supplied with the device).
If it still is dead, take your iPhone, the charger and the cable to an Apple store for diagnosis.
(Yes, you can try and restore the device to factory settings, but this erases all the data and settings on your phone
In rare circumstances, the issue might be that your iPhone won't turn on and boot up properly. Usually, in this case phone tries to start, gets to the silver Apple logo, and then restarts itself. This happens when trying to install an iOS update without enough battery life and in some other cases. If you're facing this problem, try putting your phone into DFU mode and resetting it.
­
See also
Apple Encyclopedia: all information about products, electronic devices, operating systems and apps.
iGotOffer.com: the best place to sell my used iPhone online. Top cash guaranteed. Free quote and free shipping. BBB A+ rated business.
 

<!-comments-button-->