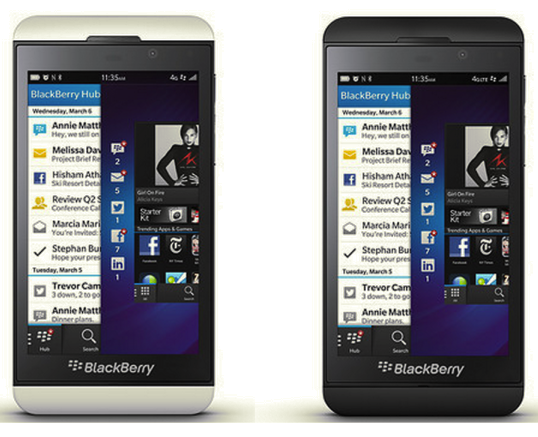 Is Blackberry 10 an iPhone Competitor or Not?
The company formerly known as RIM and now BlackBerry, announced its lineup of devices running BlackBerry 10. On top of the rebranding of the company they presented the new 4.2-inch BlackBerry Z10. A second model equipped with a QWERTY keyboard was also launched. Master BlackBerry thumb typists might not find it as fast as the traditional physical keyboard, but, for a one-finger typist it is faster and more accurate than either of the native keyboards on the iPhone or Android, thanks to predictive typing.
The Z10 is a well-made and reasonably priced device. In fact, it does everything a modern phone should do. The only problem with the Z10 is that it doesn't do anything better than any of its competitions. With the Z10, BlackBerry has created a smartphone that's worthy of being mentioned in the same conversation as the latest Android devices and the latest iPhones. The BlackBerry 10 OS comes with many of the world-class features you'd demand from a modern OS.
BlackBerry 10 is a mobile operating system developed by BlackBerry Limited for its BlackBerry line of smartphones. It's powered by QNX and acquired by BlackBerry in 2010. BB10 Devices running BlackBerry 10 are the Z30, Z10, Z3, Q10, Q5, P'9982, P'9983, the BlackBerry Passport, BlackBerry Classic and the BlackBerry Leap smartphones. BlackBerry 10 is based on the QNX operating system. This system is popular in industrial computers and used in many car computers.
BlackBerry 10 and BlackBerry Tablet OS have numerous technical similarities. BlackBerry 10 provides substantial enhancements over the earlier releases. BlackBerry 10 has continued to improve and evolve as can be seen by the release of the newer versions. These versions have added increased features and functionality to the device.
­See also:
For more information about the latest Blackberry smartphones, cast a look at 9to5mac.com.
iGotOffer.com: the best place to sell used iPhone online. Top price guaranteed. Free quote, free shipping. BBB A+ rated business.
<!-comments-button-->