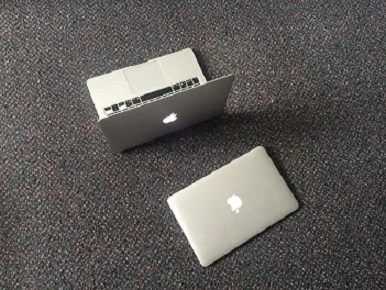 Why Apple Macs Are a Hot Buy
The snarky tweet by Brian Hall (see Apple Is Not Doing a Favor, featuring the link to Sam Byford's article Apple Should Stop Selling Four-Year-Old Computers) about Apple laptops and desktops falling behind went viral and spiked the ever-lasting conflict between Mac and Windows PC fans. Certainly, our team couldn't take a backseat for that. We too have a couple of words to say.
Even back in the 1990s, when Apple introduced the iMac G3 Bondi Blue, it was clear that the company was not about selling PCs. Apple was, and has always been, about selling experience, emotions, and security. People didn't want bleak and unemotional boxes in their homes, they sought after shape and colors. Having a bright translucent blob on one's desk was like conning the "Enterprise starship".
Also remember the iMac G4 Harmon Kardon speakers: all glass and steel, ball-shaped and sparkling! Every product is nice to look at, and to touch. More so, most people just don't want to know how the PC works.
Compare it to having a TV or a fridge. You don't need to know the physics and electronics to watch your favorite show, or find a box of rocky road. Apple gives us just this. You unbox your new Mac, MacBook, or iMac, plug it in, and enjoy. Your data is securely backed up in iCloud. Your Mac also has everything in a bundle to listen to music, watch movies, edit pictures and home video, video chat with your friends, or write an article. You don't need to know anything about viruses or looking for compatible drivers (a nightmare any Windows user is more than acquainted with).
The thing that has always distinguished Apple from all the others, and the thing Hackintosh fans have been trying to achieve ever since, is the ideal compatibility of hardware components. No detail is amiss, from a motherboard to memory clock speed.
Everything works smoothly. When searching Google for the latest Hackintosh builds, you'll find that un-upgraded Macs from 2013, and even 2012, are the most copied devices (Google yields 20,000 results).
So, how might one enjoy their Mac if it hasn't been upgraded in a long time? The most recent upgrade was 1,514 days ago! This is a shame, especially now, that the latest CPU can have up to 10 cores aboard. Apple should have been pioneering the cores number race and not getting over-involved with design and redesign.
Let's have a look at the core of the matter, so to say. If you ever looked up a new desktop or laptop online, or in your local store, you know that the core is the coolest thing about the processor. Actually, it's in fact the most heated one.
The more a CPU works, the higher its temperature rises. So, a multi-cored CPU works the hardest and requires a state-of-the-art cooling system to prevent a crash. It's fine for cumbersome desktops, but what about sleeker laptops and mobile devices? If you don't have a place for the cooler, you end up with a nice lap-warmer for cold winter days. Now, that's when the throttling takes place. The heated CPU automatically decreases its speed and consequently, the computer's performance. So, in perspective, it doesn't matter if you have 2, 4, 6, or 8 cores aboard. It all comes down to heat and surviving.
From the first look at the Intel Core i7 (I7-3720QM) Sandy Bridge, installed in the MacBook Pro in mid-2012, you could see it was inferior to the latest Intel Core (i7-6800K) Broadwell E. It has less cores and less threads. However, it featured processor graphics. That means that the CPU has an integrated graphics co-processor, and you can run your computer with no graphic card at all if needed. (Of course, you won't be able to boot "heavy" apps, but you'll still be able to run office programs.)
The Intel® Quick Sync Video "delivers fast conversion of video for portable media players, online sharing, and video editing and authoring". Quoting Mr. Byford himself, it's a very durable processor: "The $1,199 13-inch model was powered by a 2.5GHz Core i5 Ivy Bridge processor, a solid option for a mid-range laptop in June 2012.
I got one that month and am actually typing this column on it right now, having performed open hard drive surgery last night to bring it back from the dead." Have I made my point? The only issue with Mr. Byfords' MacBook was relating to the hard disk and not a processor unit! Judging from the word "surgery", I suspect Mr. Byford installed the larger hard drive. But, who knows?
Geek part over, do you know what is crucial about all this? Most people don't need half of these technologies in their life. No, friends and neighbors, they don't, unless they work in IT or engineering, in which case they need far more powerful machines and frameworks.
You don't need a Broadwell E CPU or the latest DDR4 memory to video chat with your friends, to put up a datasheet on this month's sales, or to write a thesis in sociology. What you really need from your digital assistant, Apple can give you. These are: impeccable performance, unprecedented quality of all parts, and sense of security. You can rely on your Mac every day, every hour of your life, every moment you need it.
See also:
Apple Encyclopedia: all information about company, products, electronic devices, operating systems and apps.
iGotOffer.com: the best place to sell my old Apple computer online. Top cash guaranteed. Free quote, free shipping. BBB A+ rated business.
<!-comments-button-->