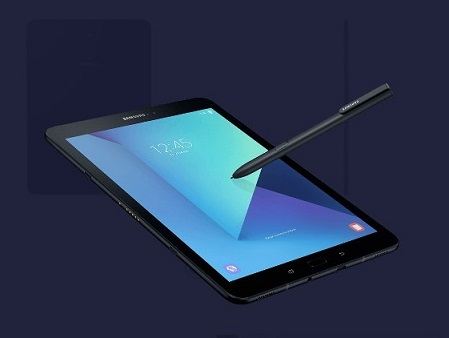 Samsung Galaxy Tab S3
The Galaxy Tab S3 tablet is an all-new versatile Samsung creation, offering its owner the sleekness of a modern smartphone with all the benefits of a tablet. The tablet screen provides incredibly colorful images, and its glossy glass back is new in the design world. The Galaxy Tab S3 replaces the Samsung Galaxy Tab S2. However, apart from the screen size there is little difference between the Galaxy Tab S versions, as these models have been designed and marketed on the budget end of the market. They do not compete with Apple MacBooks, but Samsung tries to position its Tabs S (which feels very slimand trim when in your hand) close to the premium end of the budget line. This explains why the Galaxy Tab 3S does not feel cheap, even though it is plastic. The nice, smooth, elegant and rounded corners create an impression of a high-quality powerful machine.
The Galaxy Tab S3 was introduced on February 26, 2017.
Specifications
Processor: Snapdragon 820. The CPU is 18% faster and the GPU has three times faster graphics than the previous
Memory: 4GB RAM + 32GB onboard storage. MicroSD up to 256GB.Graphics: Vulkan graphics.
Display: 9.7-inch QXGA (2048 x 1536), sAMOLED.
AP: Wi-Fi only – Qualcomm APQ 8096 (2.15 Ghz + 1.6 Ghz). LTE-enabled – Qualcomm MSM 8996. (2.15 Ghz + 1.6 Ghz).
Operating System: Android Nougat (Android N).Front Camera: 5MP (F2.2).
Front Camera: 5MP (F2.2).
Rear Camera: 13MP AF (F1.9).
Dimensions: 237.3 x 169.0 x 6.0 mm.
Weight: Wi-Fi – 429 g, LTE – 434 g.
Video: Recording – UHD (3840 x 2160) @ 30 fps.
Sound: Quad-speaker system, sound coming from the four corners and automatically following the direction mode (vertical or horizontal) of the screen.
Input: By Pogo keyboard (plugs directly into the tablet) or by S Pen: S Pen 9.4 mm in diameter, 0.7 mm tip. The pen doesn't need recharging. Pressure sensor level 4,096.
Port: Type-C USB 3.1
Battery: 6000 mAh. Video playback up to 12 hours.
Initial Price: $599 (keyboard sold separately).
MISCELLANEA
The price of the Galaxy Tab S3 includes the improved S Pen.
Vulkan graphics allow users to take their gaming to a better level compared to previous models, while HDR video support (and we quote Samsung here) "makes the scene come alive".
Note that the HDR video playback announced by Samsung for this tablet is available only for videos streamed via the Amazon app.
Samsung collaborated with AKG to provide its new tablet high quality sound.
Samsung has optimized the Galaxy Game Launcher for its Galaxy Tab S3's screen. Power Saver, Mute Games, and Ongoing
Calls modes have been added.
Samsung promised that the owners of this tablet would get 15GB of free storage with Samsung Cloud so they could clear up space on their device, and keep important files close at hand.
Techradar states that "The Galaxy Tab S3 is easily the best Android tablet you can buy right now thanks to its all-glass design upgrade, future-proofed HDR-ready display and included S Pen."
Samsung adds many different options to subscribe to other sources.
LINKS
We provide the best place to sell old and used devices. It's as easy as one, two, three! We buy for the best price. We insure your device. 5-star customer rating. Check our prices: Sell your used tablet online now!

<!-comments-button-->