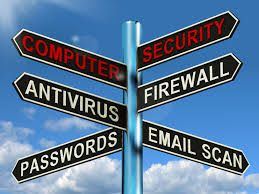 Secure Accounts: Ten Simple Steps to Secure PC and Online Accounts
Secure Accounts:
A secure password: Pick a password that is unique, memorable and only for one particular platform. Using one password for multiple accounts can open your computer up to other attacks. If you use the same password and one account is breached, that means your other accounts could be too. It's much better to use a password manager which can eliminate multiple passwords and mitigate other attacks.
Remove all apps and junk software preinstalled on your computer if you aren't going to be using them. This action will eliminate many points of potential attacks and gives you more control over what is running on your device.
Enable full-disk encryption on your hard drives. Microsoft's BitLocker or Apple's FileVault are good built-in solutions.
Setup Two-Factor Authentication on all of your online accounts. Two-Factor Authentication works by sending a second password to one of your devices, such as your iPhone to verify your identity. Setting up two-factor authentication bolsters your password considerably. More online accounts support this method; including Apple, Microsoft and Google.
Force a secure connection to a web site by adding a plugin called HTTPS Everywhere, in order to protect your privacy and help stay secure. This plugin forces a website to load up using a secure version of the page, if it's available.
Uninstall Java and opt instead for modern Web standards, since Java is renowned for being riddled with bugs and security issues. Apps like Adobe Reader and Adobe Flash are also known to be troublesome, but are still widely used.
Use Tor for anonymous browsing. This anonymity network makes browsing history unreadable to the outside malicious actor, so using Tor can significantly help your privacy needs. Tor is one of the best browsing maskers available today.
Keep your computer up-to-date, even your Mac. Making sure that your operating system is up-to-date is vital to your computer`s security. Malware (botnets) can be installed on unpatched devices, forcing them to enroll in criminal activity without your knowledge.
­See also:
Apple Encyclopedia: all information about products, electronic devices, operating systems and apps from iGotOffer experts.
<!-comments-button-->