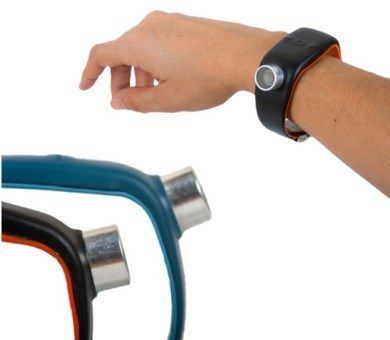 Sunu Band: New Device Developed to Help Blind People
Sunu Band is a sonar smart-bracelet, which provides help for the blind and visually impaired. More than 20 million adult Americans (nearly 10 percent of all adults) are completely blind or have serious troubles seeing, even when wearing glasses or contact lenses. The number of visually impaired people worldwide is estimated to be near 300 million. This new technology is geared towards the people who need a little help getting around because of their vision.
Independent mobility for people living with impaired vision can be extremely stressful and the previous aids in the market were too expensive and just not intuitive enough to help. Sunu Band's objective was to create a user-centered, yet discreet device; and with its proximity sensors and haptic feedback (vibrations), they seem to have done just that. The sonar and vibrations help the visually impaired sense objects in their path in ranges of up to four to five feet. When outdoors, it can detect up to fifteen feet ahead of the user. It can also be turned off when you don't need it.
In 2015, Sunu improved, tested and validated its product with the National Federation of the Blind. It also worked with orientation and mobility experts, as well as individual users.
The new sonar smart-bracelet includes connections to the Sunu Tag locator beacon. This locator helps people keep track of personal articles. It also includes a haptic clock, allowing users to tell time via discreet vibrations.
The prototypes for the Sunu Band were developed by co-founders Marco Trujillo and Cuauhtli Padillas in Mexico. It seems that there is nothing quite like the Sunu Band on the market right now.
See also:
Apple Encyclopedia: all information about company, products, electronic devices, operating systems and apps from iGotOffer experts.
<!-comments-button-->