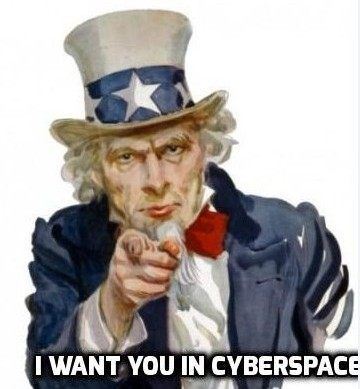 This text was first published in 1994. Reality in that era wasn't very different from our time: Most organizations already had some sort of online presence, so did the government. The following article, written more than 20 years ago, presents some of the resources which were available to the public online in 1994. The focus of this article is on the United States.
Uncle Sam Wants You In Cyberspace
Is government just as bureaucratic online as it is off? Find out for yourself:
President George Bush was awestruck by supermarket check-out technology. President Bill Clinton regularly checks his own e-mail messages.
The times, they have a-changed, and now, most of the federal government is online. Technological advancement aside, however, the federal government is still, well, the federal government: Accessing government bulletin hoards is not always easy or inexpensive.
Here are some of the more user-friendly government services. For a more complete guide to what the government can do for you online, try Washington Online: How to Access the Government's Electronic Bulletin Board Services by Bruce Maxwell (Congressional Quarterly, Inc., $19.95.
Fedworld: Managed by the National Technical Information Service, FedWorld acts as a gateway to over 100 federal bulletin, board services, including those devoted to business and economic data, the Census, health-related issues, and agriculture as well as being a source itself. It's relatively easy to use and is the place to start any search for government-related information. FTP: ftp.fedworld.gov.
Consular Affairs Bulletin Board: Managed by Overseas Citizens Services, this is a terrific resource for Americans who live or who are planning to travel abroad. The board has information on everything from updates on political and health-care considerations in foreign countries, to how to get a visa or a passport, to emergency services for Americans abroad. It can be accessed through FedWorld, or, to dial directly.
Consumer Information Center BBS: Managed by the US General Services Administration, this bulletin board has dozens of publications online ranging from "AIDS and the Education of Our Children" to "Your Rights When Purchasing Products by Mail or Phone." The administration`s comprehensive book on consumer protection, Consumer`s Resource Handbook, is also online. Accessible through FedWorld, or to dial directly: (modem number).­
See also:
Apple Encyclopedia: all information about company, products, electronic devices, operating systems and apps.
iGotOffer.com: the best place to sell my used iPad online. The top cash guaranteed. Free quote, free shipping. BBB A+ rated business.
<!-comments-button-->