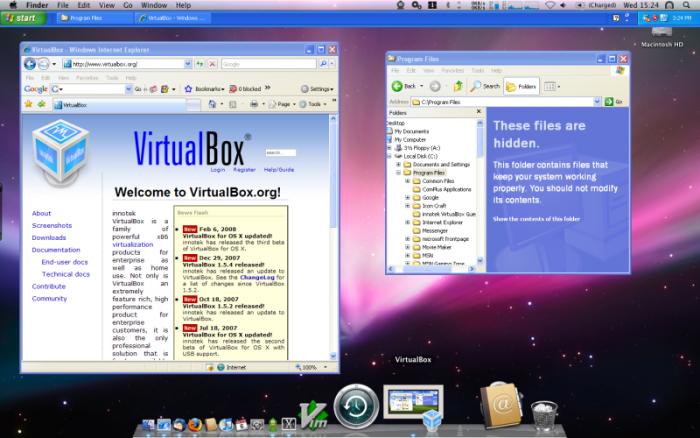 Virtual Box: Run Windows and OS X at the Same Time
Did you know that you can run almost any OS on your Mac? For instance, your colleague works with an application that does not exist for OS X, you want to practice scripting on Linux, or if you only need to prepare for your IT exam and get comfortable with Windows servers. In these situations, you will need to install a virtual machine on your computer. There is an application called VirtualBox that is absolutely free, and you can download it here.
VirtualBox is a free alternative to visualization software such as Parallels and VMWare. Although it may not be as polished, it's generally an excellent free solution to what can be an expensive problem.
VirtualBox allows you to install an alternative operating system on your Mac, such as Windows, Linux, Solaris and just about any other OS you can think of. VirtualBox is considerably lighter than more well-known options such as Parallels, and setting up a new OS is very simple and straightforward. VirtualBox guides you through the whole process step-by-step.
Integration with your native environment is straightforward, although not as slick as Parallels. VirtualBox allows you to define shared folders, which can then be accessed from within the operating system you're running.
If you don't want to pay for Parallels or VMWare, and only need a virtual environment for occasional use, VirtualBox is an excellent solution.
According to Wikipedia, Oracle VM VirtualBox (formerly Sun VirtualBox, Sun xVM VirtualBox and Innotek VirtualBox), is a free and open-source hypervisor for x86 computers developed by Oracle Corporation. Developed initially by Innotek GmbH, VirtualBox was acquired by Sun Microsystems in 2008, which was in turn acquired by Oracle in 2010.
VirtualBox may be installed on a number of host operating systems. These include Linux, OS X, Windows, Solaris, and OpenSolaris. There are also ports to FreeBSD and Genode. It supports the creation and management of guest virtual machines running versions and derivations of Windows, Linux, BSD, OS/2, Solaris, Haiku, OSx86 and others, and limited virtualization of OS X guests on Apple hardware.
For some guest operating systems, a "Guest Additions" package of device drivers and system applications is available, which typically improves performance, especially of graphics.
VirtualBox was initially offered by Innotek GmbH from Weinstadt, Germany, under a proprietary software license, making one version of the product available at no cost for personal or evaluation use, subject to the VirtualBox Personal Use and Evaluation License (PUEL). In January 2007, based on counsel by LiSoG, Innotek GmbH released VirtualBox Open Source Edition (OSE) as free and open-source software, subject to the requirements of the GNU General Public License (GPL), version 2.
Innotek GmbH also contributed to the development of OS/2 and Linux support in virtualization and OS/2 ports of products from Connectix which were later acquired by Microsoft. Specifically, Innotek developed the "additions" code in both Microsoft Virtual PC and Microsoft Virtual Server, which enables various host-guest OS interactions like shared clipboards or dynamic viewport resizing. Later, Sun Microsystems acquired Innotek in February 2008. Oracle Corporation acquired Sun in January 2010 and re-branded the product as "Oracle VM VirtualBox".
(See Wikipedia).
See also:
Apple Encyclopedia: all information about products, electronic devices, operating systems and apps.
<!-comments-button-->