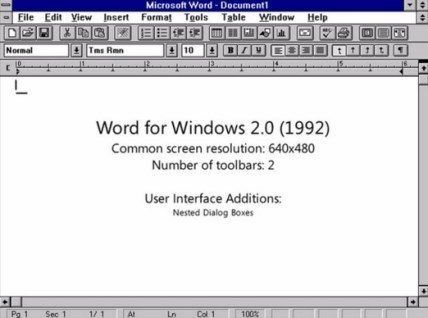 Write Stuff Online: Forward to the Past
Today, many word processing software is available, ranging from free to very expensive. However, historically it has not always been so. The following article talks about the first word processing software, some have become obsolete, while others, such as Microsoft Word have become so important most office jobs require knowledge of the program to land the job.
Do You Have the Write Stuff?
Which word processing program is best for you? Kay Yarborough Nelson, author of Slick Tricks for Word for Windows and Friendly Macintosh, and Edward Mendelson, Columbia University English professor and contributing editor of PC Magazine, pick the cream of the crop. The best packages are expensive: Expect to pay between $100 and $400. The good news is you can't really make a mistake: all the programs listed are good. Because word processing packages are updates so frequently, we haven't listed specific versions.
For PCs with Windows:
Amipro (Lotus Development): This Windows-based application is an excellent graphics handler and a powerful desktop publishing application. You can create graphs and tables without having to dip into a separate module to do it. It's also very easy to use, a s plus for the beginner.
Microsoft Word for Windows (Microsoft Corp.): Arguably the best text editor ever. You can cut and paste text in between several documents; its menus are helpful and robust; and it has several intelligent, automated editing features – like automatically correcting misspelled words as you type.
Wordperfect for Windows (WordPerfect Corp.): With easy-to-program macros – miniature programs that allow you to design short cuts – for just about every feature, this is a great package for people who love to customize their word processors. It also has great document handling features. Without leaving the program, you can create directories on your hard disk, rename, copy, and create a list of documents that you work with frequently.
For PCs with DOS only:
Microsoft Word for DOS (Microsoft Corp.): It offers many of the same features as WordPerfect for DOS, but it's not as elegant in looks or file handling. It does, however, have a lot of short-cut keys, so if you're a crackerjack typist, you may prefer it over its competitors.
WordPerfect for DOS (WordPerfect Corp.): This package is so good-looking, you almost feel as though you're in Windows. You can even use a mouse, if you want it! It's also the best word processor for DOS.
For Macintoshes:
MacWrite Pro (Claris): Though not as feature-rich as other Macintosh word processors, MacWrite Pro is a bargain (you can find it for under $100). With a communication link, you can send e-mail directly from the word processor. Also has great search-and-replace features and graphics capabilities. Features like grammar-checker and out-lining cost extra.
Word for the Macintosh (Microsoft Corp.): Probably the best of the Mac word processors, Word for the Macintosh boasts every feature that its Windows counterpart does.
WordPerfect for the Macintosh (WordPerfect Corp.): For point-and-click addicts, WordPerfect for the Macintosh has a tool-bar for everything – mail merges, formatting, fonts, tables, and more. But it still isn't as good as its Windows counterpart.
(The features referred to were available in mid-1995 and were really good stuff for those years long gone).
You don't need all the options? Here's a few DOS-based cheapies under $25.
Webster's Word Processor (Cosmi Corp): The king of thrifty word processors, Webster's (no relation to the dictionary) is full-featured enough for all word processing tasks. It's got spell-checking, a thesaurus, and a feature that corrects widows and orphans.
Swift Word Processor (Cosmi Corp.): This is a cinch to learn. Commands are selected either from pull-down menus or Alt-key combinations. You can't italicize, bold-face, or change the style of the text in any way, though, and the spell-checker will report mistakes, but it won't correct them.
Easy Working: The Writer (Spinnaker Corp): Offers everything Swift does, but its features are more robust. Text is displayed on the screen exactly the way it will appear on the page, including margin setting and page breaks. The spell-checker is worse than Swift's, though.
Desktop Publishing Software
This software lets you design pages like a pro. But is that really necessary?
How to be the next Gutenberg.
Desktop publishing software (DTP) allows you to create page layouts that only a few years ago could have been done only by professional typesetters and printers. Typical users of DTP software are production designers in the publishing industry, who use the programs to lay out and produce magazine covers and pages, complete with all the photos, text, and fancy formatting they require.
Do you need DTP? Probably not. DTP came into vogue when word processors were still fairly basic, but today's high-end word processors are very sophisticated. They're built to handle just about every design feature you'd be likely to use for newsletters and the like. If you find you're pushing your word processor to the max, though, you might want to look into a professional DTP package. Most cost around $500. One caveat: DTP software hogs hard disk space (not to mention RAM), so make sure your computer is powerful enough to handle it.
Leading desktop publishing packages: Framemaker, Microsoft Publisher, Pagemaker, Quarkxpress, Ventura Publisher.
­
See also
Apple Encyclopedia: all information about company, products, electronic devices, operating systems and apps.
Copyright © 2016 iGotOffer.com. All rights reserved.

<!-comments-button-->