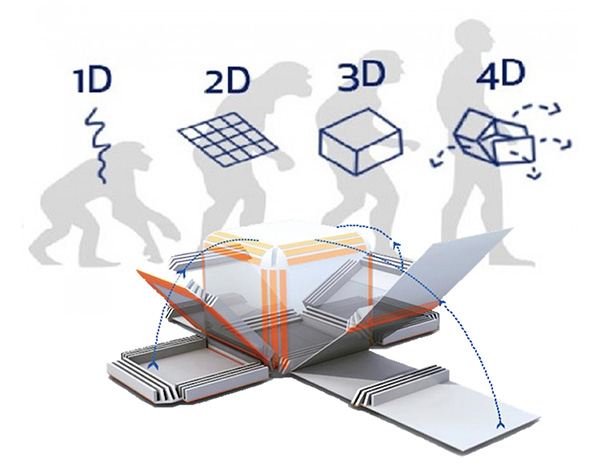 4D Printing in Action [Video]
Video uploaded by Pranavee M on March 16, 2016.
4D Printing
We are entering a new technological age where a revolutionary process called 4D printing is being developed today. This new technology marks a radical change in rapid prototyping. The objects printed in 4D can perform programmed functions and transform their forms and other qualities.
Many industries certainly will profit with this new technology. Aerospace, architecture, automotive, building, defense, medicine and many other domains will be able to use this innovative process, based on self-assembly technologies.
The 4D printing will be able to create large-scale structures which go from one shape to another over time.
How it Works
Using the 4D printer, developers can program different material properties. This includes designed geometry, different water-absorbing properties of material being used as well as other qualities. When a user turns on a 4D printer, the multi-material technology activates the self-assembly process. This technique of embedding programmability can even be used to transform non-electronic based materials.
4D object formats have API's (short for Application Programming Interfaces) that enable designers to define the characteristics of the materials they are made from. They are then printed using sophisticated chemical calibrations to enable specific attributes and functionality.
Reality and Predictions
The self-assembly process is just the beginning of a new era of manufacturing. It will greatly influence our economic, environmental and other constraints. 3D printing has already become important to a wide range of industries. In fact, experts expect that 3D printing will be growing by 25 percent annually through 2023 and becoming a $33 billion market by that year. Obviously, 4D printing is a much smaller industry but experts predict that it will be growing at 40 percent a year through 2023. Globally, the market for desktop printers is expected to grow at a higher CAGR between 2017 and 2023.
There is a variety of tools used for implementing 4D printing. Some of these include vox.cad (a cross-platform open source voxel modeling and analyzing software), that are already widely used by printer companies today. The real advances are expected to happen in the chemistry of the materials that have mutable properties. Design principles that take advantage of these new materials are now taking shape.
It seems that within four to five years, we'll see highly sophisticated materials that can be programmed and printed. This is a result of a flowering collaboration in a rapidly evolving business space. In this rapidly changing environment, the increased demand for technological innovation in different fields is expected to boost 4D printing technology.
Key Players
The key players in this new industry of the 4D printing technology are Stratasys Ltd. (U.S), Hewlett Packard Corp. (U.S.) 3D Systems Corporation (U.S.), ExOne Co. (U.S.), Autodesk, Inc. (U.S.), Organovo Holdings, Inc. (U.S.), Materialise NV (Belgium), Dassault Systèmes SA (France).
Links
<!-comments-button-->