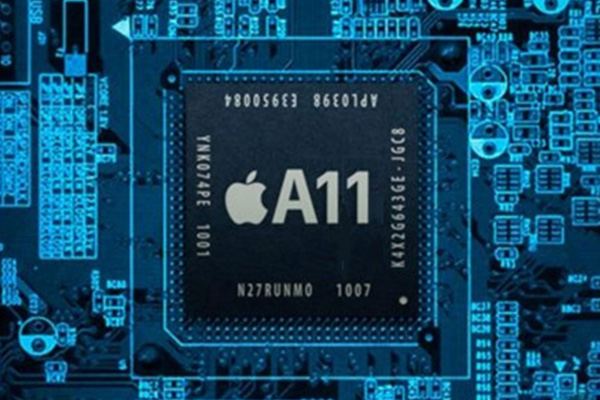 Apple A11
The Apple A11 Bionic is a mobile chip developed by Apple Inc. It was specially designed for the iPhone 8, iPhone 8 Plus, and iPhone X. It features the 2 x 4 cores structure: two high-performance cores called Monsoon and four high-efficiency cores called Mistral.
Monsoons are 25% faster than the Apple A10 and Mistrals are up to 70% faster than the energy-efficient cores in the A10. The A11 sports a new second-generation performance controller, which allows the chip to use all six cores at the same time. It's a great departure in mobile chips engineering since the previous A10 lacked this feature.
The A11 integrates an Apple-designed three-core graphics processing unit (GPU) and a M11 motion coprocessor. The performance is 30% faster than that of the A10. The A11 also includes two completely innovating features which are the only ones of their kind: a new image processor and a dedicated neural network hardware. The image processor's job is to support lighting estimation, wide color capture, and advanced pixel processing. The neural network hardware is called "Neural Engine" and can perform up to 600 billion operations per second.
The A11 is manufactured by TSMC using a 10 nm FinFET process[1] and contains 4.3 billion transistors with a 2.53GHz Clock for 2 high performance CPU cores and 1.42GHz Clock for 4 low power CPU cores.
Specifications
Name: A11.
Code name: Monsoon, Mistral.
Introduced on: September 12, 2017.
Designed by: Apple Inc.
Manufactured by: TSMC.
Min. feature size: 10 nm.
Instruction set: A64.
Microarchitecture: ARMv8‑A compatible.
Cores: Hexa-core (2× Monsoon + 4× Mistral).
Monsoon clock speed: 2.53GHz.
Mistral clock speed: 1.42GHz.
Overclock speed: N/A.
L1 cache 32 KB instruction, 32 KB data.
L2 cache 8 MB.
L3 cache none.
Predecessor: Apple A10 Fusion.
GPU cores: 3.
Application: iPhone 8, iPhone 8 Plus, iPhone X.
Miscellanea
The chip design and the core task distribution shows the priorities Apple set up for the iPhones of the new generation. The A11 can back up the most complicated graphic function: 3D face recognition under unfriendly conditions. The energy saving mode is a runner-up. The iPhone 8 reportedly gets an even smaller battery than the iPhone 6. The battery is smaller both in size and in capacity. The new energy efficient microarchitecture is to back up the prolonged battery life.
Links
Apple iPhone 8 vs Samsung Galaxy S8! [Video]
Video uploaded by Jonathan Morrison on September 21, 2017

<!-comments-button-->