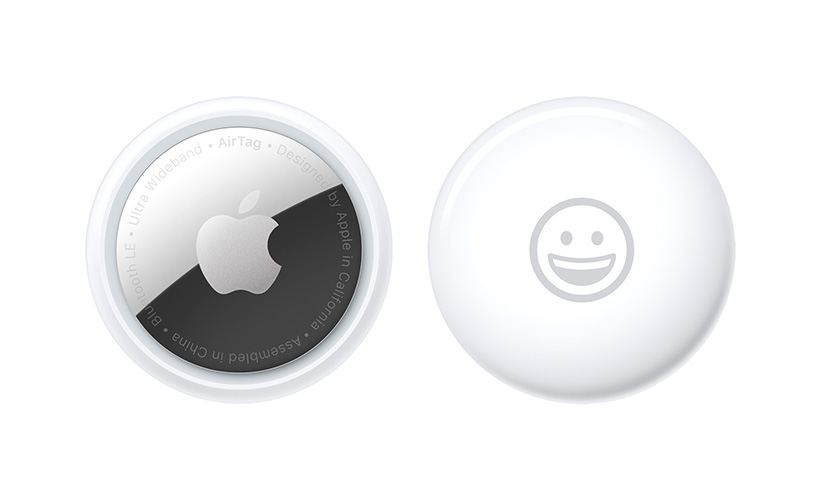 AirTags: New Apple's locators are finally here so let's have a look
So, the wait is over, at last. Apple might have made us wait a bit long for their AirTags (and oceans might be a little wet), but at their latest multi-product launch, Spring Loaded 2021, they made good on all these promises and debuted this product line of devices designed specifically for finding the gadgets you might have mislaid or forgotten somewhere. It has to be noted that the company already has on offer some tools aimed at the very same purpose, but until now, those were of strictly software nature, the newest being the famous Find My app based on its namesake network (which, by the way, now covers some non-Apple devices). But from the 30th of April (when the sales start) the said network and app will be complemented by very physical, Tile principle-using trackers that can be attached to your phone or tablet (or other item of your choice) and will then respond to the Find My searching signal when the need arises.
And yes, this sounds impressive, as a notion: a new step for the company, a tangible (sorry for the obvious pun) addition to its searching service, and all that. However, the question, as always, remains, what does it actually bring to the loyal Apple fans what they haven't had before and how can they make the best of it.
Well, we personally, being faced with this "what's new" question, would start with the fact that AirTags noticeably up the exactitude of search. One of their main characteristics has been called "Precision Finding" for a reason: thanks to their U1 chips, their owners will always know precisely where they – and, therefore, the articles they are attached to – are laying in their homes… or even outside, within certain distance limits (most likely, 100m, considering that AirTags use Bluetooth signal). And they can even "call" you to wherever they currently are due to the fact that they come with the inbuilt sound, which can be activated by Find My and Siri alike. There are also some handy traits sported by their communication with the aforesaid Find My network: the latter will always remember where the disappeared AirTag was "seen" last time and also will show its location to any Apple phone, tablet, notebook or watch that happens to be nearby, so their owners can notify whomever the missing tracker belongs to.
In other good news (and also as promised), this Apple's novelty will protect you from the different, more potentially sinister, side of tracking – to wit, when it's not you trying to locate your lost tech, but someone else trying to actually follow you. To ward off such kind of unwanted attention, the AirTags are built in such a way that your Apple phone will not just notice them laying around, but will be able to tell when an unidentified AirTag is moving after you and notify you in such cases with the "AirTag Detected" message. (It doesn't apply to the trackers known to the system, so you won't be bothered unduly whenever you are together with a relative or a friend who has their own Apple tracker.Plus, you can switch the AirTags alerts off for the items you willingly borrow to someone else).
It is also nice to know that these new tags can impressively expand the number of the items you can track at once: every one of them can monitor as many as 16 gadgets, and even in our digital times one will be hard-pressed to imagine anyone needing anything more. Especially taking into account that you can buy them not just one by one, but also go for the set of four (which would not be a bad deal, too: such a set will cost you $99, whereas one tag goes at the $29 price).
And on top of all that, they are befittingly sturdy for the purpose of airing the location of missing items from whatever strange places those may end up in. For instance, the company claims that they can withstand being submerged in the water as deeply as a meter down, for as long as half an hour.
Now, we would be lying if we'd say these newly-introduced AirTags come with no downsides. Some, probably, won't be happy upon learning that they are not rechargeable – you'll have to change their CR2032 batteries once they'll run out. There is also a bit of disappointment in store for all the exotic location lovers, because some of AirTags' most attractive features (such as aforesaid Precision Finding) won't work in quite a few of these locations, including Argentina, Russia and Indonesia (so don't misplace your iPhone in a Bali hotel room). And alas for all the overprotective or anxious parents out there: Apple has expressly advised against attaching these trackers even to pets' collars, forget your children's clothes, out of privacy concerns we already mentioned above (though whether inadvisable actually means undoable in this case remains to be seen). However, in our view, in this case, the good certainly outweighs… not even the bad (we can't see anything outright bad here), but, shall we say not so good.
So on balance, yes, we consider this new Apple product worth the wait and the Apple lovers' money. Go get them and attach them to your cherished gadgets, especially since it's so easy to do: just pair your new AirTag with whichever compatible device through your Find My app, give a name to whatever tech you want to be looked after, associate it with your Apple ID, and you'll have one less concern on your mind. Or from one to 16, to be precise. All in all, not too shabby.
Links
Apple AirTags Unboxing & Demo! [Video]
Video uploaded by Marques Brownlee on April 22, 2021

<!-comments-button-->