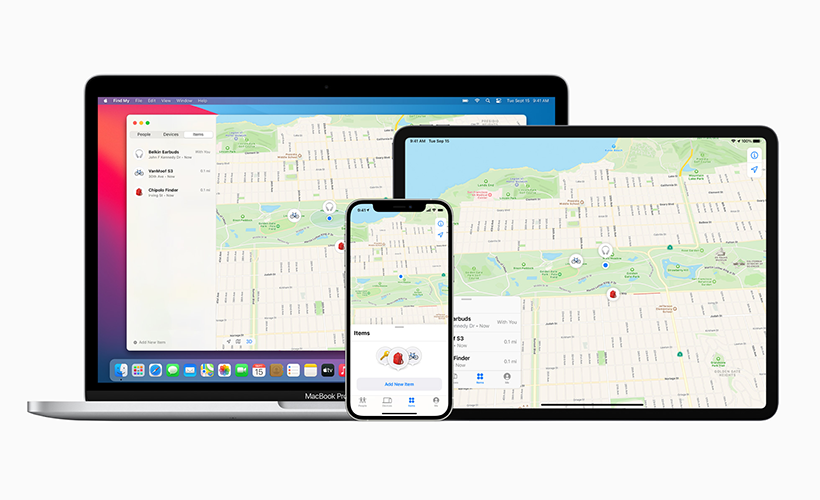 What's new to find in your Find My: First look at Apple's new updates
OK, we admit, the wordplay in the title above is a bit (or more) obvious. But it is one of those "trite yet true" cases. Because, while new modifications to familiar products, hardware and software alike, are a regular thing to the point of being routine by now (especially when it comes to major makers), the subject changes undergone by the titular Apple's application is really far from routine. In fact, to our eyes it looks closer to revamp than yet another update. Want to know why we think so? Well, read on.
For starters, Find My's main function, clearly defined by its name, is no longer limited to Apple's own environment, which is a rather novel approach, and not just for Apple (though, granted, this way of doing things is not very characteristic for them, first of all), but on principle as well. Believe it or not, but from now on Find My will be able to find not just iPhones, Macs, iPads and such, as before, but also some of your non-Apple tech as well, including wireless ear-pads, some trackers and, moreover, electric bicycles / motorcycles. That's what's the new tab of the app, placed at the lower frame of the screen, actually means. No wonder it is marked as "Items": the generality of the term clearly refers to the fact that Apple has opened its searching network to a wider use. Now granted, not that much wider yet: only Belkin's earbuds, Andy of VanMoof's bikes and Chipolo tracker (once they come into the market this June) are allowed into the club so far. Still, it is most certainly a new start.
Meanwhile, all the aforesaid Apple gadgets to be found are now grouped under the Devices tab (as long as you have logged into your iCloud account on each of them). There is a map view to see them all at once or you can choose any of them separately by tapping on whatever item you are interested in. And if you use Family Sharing, the same will go for the devices belonging to your group's other subscribers, be that your partner, child or parent. So if any of them mislays some of their precious gadgets, you'll be able to help them locate it from wherever you are (and show them how to get to where their phone or tablet had been left, if it happens to be far away, because Find My can map the way to the located device as well). And in the worst case scenario – that is, if you or your family member recklessly forgot to sign a gadget or two in to the iCloud before losing them – you now can turn to the Lost Mode for rescue. By marking those inaccessible devices as Lost you'll get some rather effective assistance in finding them, because after that any Apple Bluetooth signal will recognize them as missing. Put simply, whenever a fellow Apple gadget user finds him or herself in a vicinity of your disappeared phone or tablet, their own device will notice that there is a lost Apple item nearby and they will immediately know who to notify. Furthermore, in a more sinister case of your phone / tablet / Airpads being quietly taken from you rather than mislaid, the thieves will enjoy much less safety than before. In fact, their ill-gotten loot will prove virtually useless to them, for they won't be able even to switch the "acquired" gadget on without the latter being spotted by any Apple machine that happens to be around, regardless of whether the stolen goods are online or not. And what's even better, all this is done through the fully encrypted signals, so there is no threat to your privacy either.
Another important addition to the app in question is the people-finding function (accessible through the tab named, you guessed it, People). Yes, it's no longer just inanimate objects you can look for with the help of Find My. The People tab will show you the current position of your every contact, provided that you shared location with them in advance. Plus, members of Family Sharing groups will also be able to see where their fellow members currently are. One tap on a name will be enough not just to discover the person's location but to receive directions on how to get there by choosing the according option from a pop-up menu. And even that is not all: you can also choose the notification option from this menu, to make your friend or family member aware that you'll know when they'll leave their current spot. And (now that we mentioned privacy) this kind of transparency is important when it comes to sharing personal information. Especially considering that this option, of course, goes both ways, and you are as visible to your contacts as they are to you.
Speaking of which, if you'll still feel anxious about it, transparency or not, you'll be glad to know that this new version of Find My is capable of not just finding things and people, but also of doing directly opposite. In other words, it can hide your location from others as well… and even monitor certain suspicious activities. Just choose the Me tab (yes, yet another novelty) where you can switch the sharing off and / or activate the Item Security Alerts which will let you know if you appear to be followed by an unfamiliar device.
So, all in all, if you ask us, these new Find My alterations amount to quite an overhaul and boost the application's serviceability by more than just a notch.
Even though you have to upgrade to the iOS / iPad OS 14.3 or MacOS Big Sur11.11 to get access to them. Which you are most likely about to do anyway.
Links
Apple's 'Find My' Network – securely track 3rd party devices! [Video]
Video uploaded by 9to5Mac on April 8, 2021

<!-comments-button-->