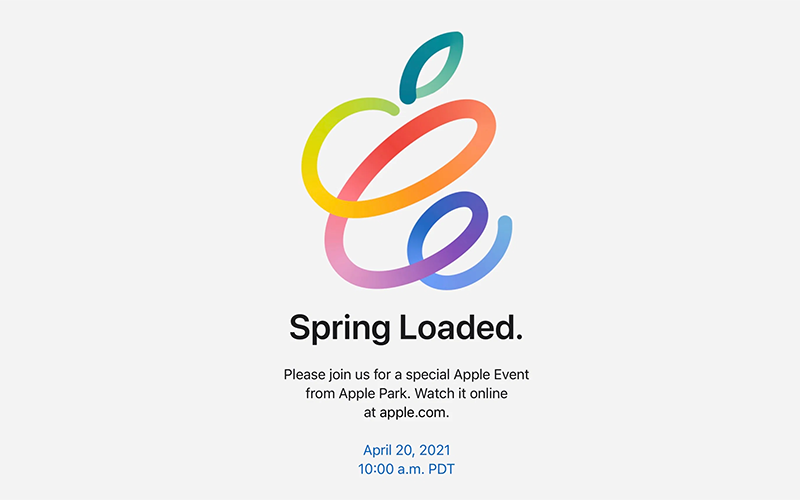 Apple's 2021 Spring Loaded event: expectations and reality
So, believe it or not, the occasion that was talk of not just the town but pretty much the whole Apple crowd (and quite a lot of other inquisitive minds, including those pretending not to care) has finally taken place (on schedule, we must add, and without a hitch). And, just like any event of this scale and importance, it was preceded with a lot of rumors, leaks, hopes and predictions. The long-promised AirTags will come about at last, they said. There will be a whole new Thunderbolt 4-equipped iPad, also debuting a mini-LED for iPad, they said. The Apple gadget owners will be given the freedom from targeted ads that was unheard of before, thanks to the App Track Transparency that will allow the users not to opt into being tracked, they said. And some even went as far as to anticipate that the new, 13th version of iPhone would be launched there. Yes, already. And that's just a tip of the iceberg of aforesaid gossip, leaks and anticipations.
So. What did actually prove to be true? And how much of it turned out as substantial as was hoped by many and as befits arrangements such as this?
Well, we mentioned AirTags prediction first for a reason. That proved to be one of the most correct leaks of them all. Yes, now those who will be lucky enough to get their hands on these Tile-like things will have a serious help in locating their misplaced iPhones, iPads o, say, wallets, because they are designed to work with FindMy app as, yes, locators, and it even won't cost you life and limb at $99 price for a set (there are four of them there). Though some promises did prove to be exaggerated: happy AirTag owners won't be able to track their friends and family due to privacy concerns. But on the other hand, the Apple Card users now can share it with their nearest and dearest thanks to transparently named Apple Card Family (parental controls included).
The New iPad Pros also didn't disappoint Apple audiences by a rain check: here it was, sporting the predicted Thunderbolt 4 port instead of USB-C and mini-LED on Liquid Retina XDR covering 2,500 areas of darkness-enhancing local dimming (that's on top of Pro Display, too). Note, however, that all these riches apply only to the higher 12.9-inch model, which you won't get cheaper than for $1,099. But then again that's usually the case with most advanced lines. Besides, even lower, not-so-strikingly rigged out models still boast the whopping 2TB storage that will be a point of envy even for quite a few mighty laptops and desktops, plus impressive 16GB of memory and ultrawide camera which now has a sensor of 12 megapixels, no less. As for 5G support, these days it goes even without saying, at least when it comes to Apple. (But, alas, using it will boost aforesaid price even more, due to the plans cost… however, that was expected too).
And yes, both these tablets and iMacs did switch to Apple's native M1 Silicon, bidding goodbye to Intel dependency. As far as iMac is concerned, it will, among other things, allow the proud owners to make more of the computer's already-familiar 21.5-in screen and 1080p camera, because M1 offers image-specific processing which the previous CPU did not. Other, maybe lesser, but still substantial, iMac news include three microphones with improved conferencing capabilities, six speakers with mightier (and now spatial) sound, and there are also newly-designed Mouse, Trackpad and Magic Keyboard thrown in for good measure. On top of the colors corresponding with the actual machine (which sets the wireless peripherals away from the crowd of your other Apple contraptions), the Magic Keyboard now has got a new Emoji key, and made a notable security leap in the form of Touch ID button which will recognize your fingerprint and thus gives your online transactions a lot of additional protection. Plus, it now comes with an Ethernet connector based on the MagiSafe principle. Oh, and lest we forget, we now can testify that those nicer to the eye, narrower screen frames weren't just an empty gossip, either.
Another fulfilled hope of the event is the AppleTV 4K, the new model of which has been yearned for by Apple fans for a long time. And this turned out to be worth the wait, too: this version has received the iPhone's A12 Bionic processor, upping the HDR frame rates. Also, this new chip can communicate with your phone's camera through its sensor and thus add one more way to configure your TV picture settings. Besides, the remote buttons' set has been modified and now includes power and mute keys.
On a less substantial, but still pleasing front, the Apple Podcasts app has been boosted with subscriptions and recommendations, and, for the fashion-minded among us Apple buffs, there is a new purple iPhone shade to impress your hipster friends. Consider it a consolation for the iPhone 13 no-show (just kidding, of course, few of us seriously expected this one).
Now were there any real disappointments? Well, if you ask us, no major ones, especially considering the amount of what actually transpired. However, the iOS 14.5 wasn't launched there, which means that we'll have to wait for that ATT protection we mentioned at the beginning (not for too long, though: this absence was very much mitigated by the announcement that we'll have all that next week). Also, more finicky among us could, nay, will have a gripe with the fact that the above-mentioned iMac doesn't have any ports in front. But even they will have to agree, at least, inwardly, that this is more of a nitpicking than a full-fledged criticism.
So by and large, all we can say here is well done Apple, and keep it up. Though doing it just a bit quicker than you came around to address these Apple TV issues would be nice.
Links
Apple Event — April 20, 2021 [Video]
Video uploaded by Apple on April 20, 2021

<!-comments-button-->