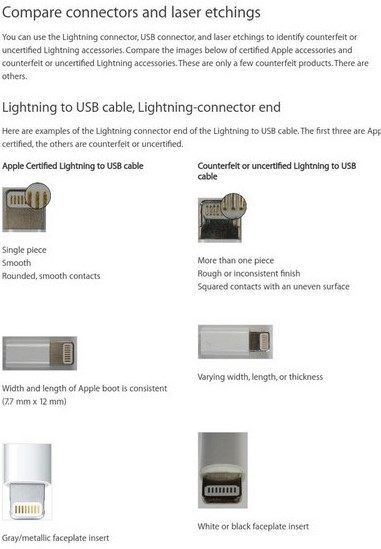 Apple Sues Mobile Star LLC for Counterfeit Chargers and Cables
As a follow-on to our 'fhot' topic about exploding iPhone 7: Apple sued Mobile Star, a manufacturer from New York for making and selling counterfeit charges and cables via Amazon. The consumer product safety and testing organization, UL, published the report that stated that fake Apple branded chargers "lack the safety features necessary to protects users from shock and fire hazards" and "were so poorly designed and constructed that they posed a risk of lethal electrocution to the user."
It was the increasing number of negative reviews from customers that alerted Apple Corporation and invoked further investigation of the matter. Customers report chargers catching fire and melting, and the angry feedback was snowballing.
On the Mobile Star official web site, the company positions itself as an authorized distributor of Apple chargers for iPhones, Macbooks, iPods and iPads. But, is the company authorized to manufacture them? The answer is no. They abused Apple owners, and undermined their trust and reliability in Apple products, as well as Amazon.
So, if you bought your charger from Mobile Star, you received a counterfeit product. However, this company isn't the only one that makes counterfeit accessories for popular gadgets. We highly recommend you follow the tips Apple posted to help you to identify your cable and/or charger as a certified Apple product.
HOW TO IDENTIFY COUNTERFEIT OR UNCERTIFIED LIGHTNING CONNECTOR ACCESSORIES
Apple recommends using only accessories that Apple has certified and that come with the "Made for iPod/iPhone/iPad" logo.
If you use a counterfeit or uncertified Lightning accessory, the following issues can happen to you:
Your iOS device could become damaged.
The cable also might be easily damaged.
The connector end might fall off. It may get very hot, or might not fit properly into your device.
You might not be able to sync or charge your device.
Note that only Apple makes the USB-C to Lightning Cable. There are no Made for iPod/iPhone/iPad USB-C to Lightning cables.

Compare packaging and writing on the cable: Look carefully at the accessory's packaging and at the accessory itself. Certified third-party accessories have the MFi logo on their packaging. An Apple Lightning to USB cable has Designed by Apple in California, and either Assembled in China, Assembled in Vietnam, or Indústria Brasileira on the cable, about seven inches from the USB connector. You'll see a 12-digit serial number at the end of the text. Also, a certified, third-party Lightning to USB cable usually has company branding on the Lightning-connector end.

Compare connectors and laser etchings: You can use the Lightning connector, USB connector, and laser etchings.

Information about products not manufactured by Apple, or independent websites not controlled or tested by Apple, is provided without recommendation or endorsement. There are inherent risks with the use of the internet. Contact the vendor for additional information. Other company and product names may be trademarks of their respective owners.

­See also:

<!-comments-button-->