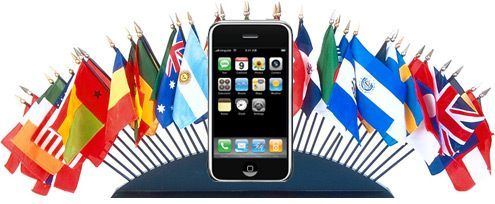 iPhone Data Roaming Charges: Avoid them!
iPhone Data Roaming Charges: When you're using your phone to browse the web, send emails, or check social media, you're connecting to your phone company's wireless network.
Generally, iPhone users pay a fixed monthly price for their data service. This means that no matter which network you're on in your home country, the price you pay for your data is going to be the same. The price, however, will be higher when you travel to another country and take your phone with you. In this case, you need to know about iPhone data roaming charges to ensure you don't run up a very high bill.
Phone companies charge much higher rates when people from other countries are accessing their data networks. When you take your smartphone overseas, you're no longer using the cellular data network belonging to your wireless carrier. Instead, your phone is in data roaming mode. This means you're not using your usual data plan. In this case you'll have to pay for each megabyte of data your phone sends or receives.
But Is it possible to avoid international iPhone Data Roaming Charges?
Here are a few tips which might help:
Turn off Data Roaming. The best way to make sure you don't run the risk of incurring high iPhone data roaming charges is to turn off your cellular network connection. This is the most important step you can take to prevent international data bills. With data roaming turned off, your phone won't be able to connect to any 4G or 3G data networks. It can only connect to those in your home country. You won't be able to get online or check email, but you should still be able to text). This will prevent you from running up any bills. To turn off data roaming, do the following: tap the Settings app on your home screen. Next, tap General (if you're on iOS 7 and higher, skip this step). Tap Cellular (on iOS 7 and higher) or Network (on iOS 6 and lower);. Move the Data Roaming slider to off/white.
Turn off all cellular data. In iOS 4 and higher you can now turn off all cellular data. With that setting on, the only way to connect to the internet is via Wi-Fi. To turn off cellular data, tap the Settings app. Next, tap General (if you're on iOS 7 or higher, skip this step). Tap Cellular (on iOS 7 and higher) or Network (on iOS 6 and lower). Now, slide Cellular Data to off/white. This can work in conjunction with, or separately from Step 1. Turning this off means you can't connect to data networks even in your home country. In iOS 7, you can choose which apps use cellular data. For example, you may what to use a GPS app or check your email. Keep in mind, however, that even checking your email a few times in another country can lead to an exorbitant bill. If you want to allow some apps to use cellular data while roaming, tap the Settings app, then tap Cellular. In the Use Cellular Data For section, move the sliders to off/white for the apps you don't want using data. Any app whose slider is green will be able to use data, including roaming data.
Use Wi-Fi for your connection: When you're overseas, you may need to get online. To do this without incurring major data roaming costs, use the iPhone's Wi-Fi connection. For anything you need to do online, such as email, web, text messages, or apps – using Wi-Fi, will save you from these extra charges.
If you want to keep track of how much data you've used while roaming, check Cellular Data Usage, a section right above Use Cellular Data For. The section labeled Current Period Roaming tracks your data usage. Scroll to the bottom of the screen, then tap Reset Statistics before your trip to start from zero.
To avoid iPhone data roaming charges, you can get an international data package. To do so, sign up for one of your carrier's international plans before you leave your home country. This will help you avoid exorbitant bills. You may want to use this plan if you expect to get online regularly during your trip and you can't be sure you will find an open Wi-Fi network. As you sign up for an international plan, ask the company for specific instructions on using the plan and avoiding additional charges. With this information, there shouldn't be any surprises when your bill arrives at the end of the month.
Nonetheless, what happens if you make a mistake? How do you deal with a huge bill, if you accidentally run up a $1,000, or even $10,000, data roaming bill while overseas? You're not necessarily stuck paying that bill. You can try to contest the iPhone data roaming charge.
­See also:
Apple Encyclopedia: all information about products, electronic devices, operating systems and apps from iGotOffer experts.
iGotOffer.com: the best place to sell iPhone online. Top cash guaranteed. Free quote and free shipping. BBB A+ rated business.
<!-comments-button-->