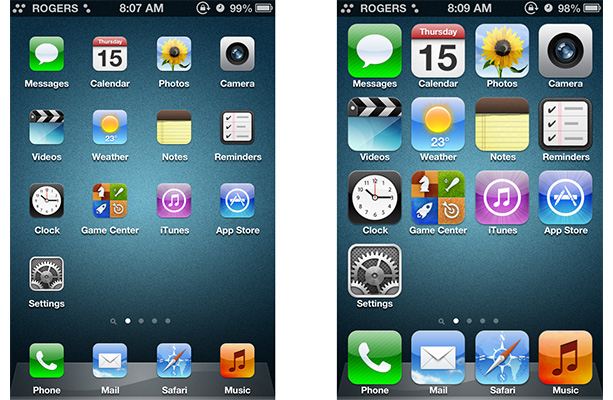 iPhone Icons Are Huge – What to do to fix the issue
Why are your iPhone icons large? They even run off the screen and create an issue when the phone rings. Sometimes the icons become so big that you can only see four at a time on the screen. This makes it impossible, or at least very difficult, to move around or find what you need. In fact, navigating takes a very careful touch because the icons are so large you'll tend to hit ones you don't want.
Many struggle with this problem. Icons fill the entire screen leaving it impossible to see the rest of their apps and options. Pressing the home button doesn't help, and it's difficult to figure out how to get it back to normal size. You may think that you have broken the phone and you start to feel desperate. However, you shouldn't worry, because fixing large icons on the iPhone is actually very easy.
In fact, the iPhone icons get too large as a result of accidentally turning on the zoom feature. This feature helps people with eyesight problems to enlarge items on the screen so they can better see them. The zoom feature is available on the iPhone 3GS and higher, the 3rd generation iPod touch and higher, and all iPad models. All you have to do is to zoom out the screen of your device to normal size.
To zoom out, hold three fingers together, then double tap the screen with all three at once. This will bring you back to the normal size icons.
If the zoom feature is the culprit, this will work. If not, consult Apple directly for help, but it is likely that zooming out the icons will solve the problem.
To prevent the screen from zooming in again, turn off the zoom feature. To do so, tap the Settings app to open it. Scroll down to "General" and tap the "General" tab. Now tap "Accessibility" (its location on the screen depends on the version of your iOS system). On the "Accessibility" screen, tap "Zoom." Once you're on the zoom screen, slide the zoom slider to off (in iOS 6 or earlier) or move the slider to white (in iOS 7 or higher).
Rather than fumbling with the zoomed screen, you might prefer to connect your phone to iTunes and click the "Configure Universal Access" button in the phone's summary pane. You can then turn all accessibility features on or off on your iPhone from iTunes.
Well, frankly speaking, you can find these solutions in the manual, but nobody reads it.
­See also:
Apple Encyclopedia: all information about products, electronic devices, operating systems and apps from iGotOffer experts.
iGotOffer.com: the best place to sell my used iPhone online. Top cash guaranteed. Free quote and free shipping. BBB A+ rated business.
<!-comments-button-->