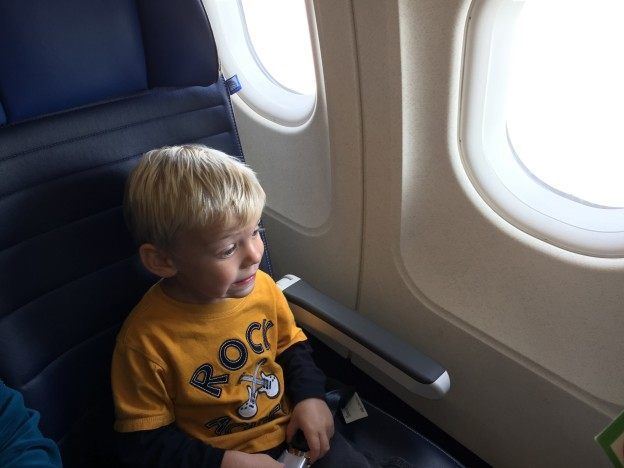 Calm Toddler While Flying
To calm toddler while flying: Plane travel with toddlers can be very stressful, so try to be well rested before the trip to keep your nerves from fraying too quickly. Pack extra food, bottles and toys. You might just need to use each of these items in order to keep them occupied while in transit. Carry one larger bag rather than several smaller ones in order to stay organized.
Even if you rarely give your child candy, a surprise lollipop will go a long way to not only keep them occupied, but sucking and swallowing will also help relieve the painful ear pressure that comes with taking off and landing.
If your kid won't stop crying, pick him up and walk around the plane. Hold him up so he can look at the window, because the view may distract him enough to calm him down. As difficult as it may be, try to ignore the glares and comments you may get from rude passengers. It's very difficult to soothe a child when you're stressed out, because they can pick up on your agitation.
Remember that most of the people understand you're doing all that you can and are mentally encouraging and rooting for you. Many of them have been in your shoes before and can commiserate. Breathe deeply and ignore those who just don't get it. Remember, when children cry on the plane, they will more often than not, wear themselves out and fall asleep fairly quickly.
Try not to fly with your 3-year-old if they have recently had a cold or an ear infection, as this can cause ear pain to worsen.
So, let's formulate some ways to calm and distract your 3-year-old while flying:
Explain to your 3-year-old what he can expect on your journey to prepare him for the flight in advance. Explain what it will be like on the airplane and how it is much like riding in a car.
Bring along plenty of things to keep your child occupied during the flight. This could include coloring books or paper with crayons, books to read, small toys she can play with as well as any travel games. A portable DVD player can also be a lifesaver!
Try to comfort your child by singing softly or telling him a story.
Load some of her favorite songs or lullabies onto your MP3 player or iPhone and let her wear headphones to listen to them (We suggest never allowing your child to play with your iPhone, since that is a bad habit that is very difficult to get rid of!)
Feed your kid a snack while in flight to prevent any melt-downs. You can bring along snacks like crackers, fruit chews, sliced grapes or cookies. Be sure to bring a cup with a lid, so he can sip on a drink as well.
Encourage your child to drink or yawn when the air pressure changes. You can speak to your child's doctor about the use of ear plugs or a nasal decongestant spray as well.
See also:
Apple Encyclopedia: all information about products, electronic devices, operating systems and apps from iGotOffer.com experts.
iGotOffer.com: the best place to trade in your old iPhone online. Top cash guaranteed. Free quote and free shipping. BBB A+ rated business.
<!-comments-button-->