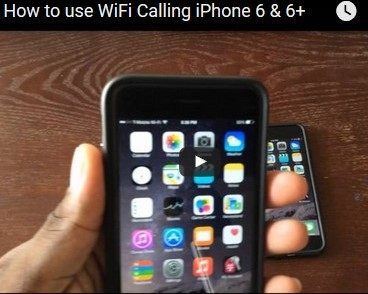 How to Enable Wi-Fi Calling on Your iPhone
What should you do if your iPhone has little or no cellular coverage in your location? This might be an issue for you, especially if you are often out of the city in areas far away from cellular towers. Wi-Fi calling is one of the cheapest and easiest options to resolve this issue. Of course, you need to be connected to a wireless network to use Wi-Fi calling.
Remember that to use Wi-Fi Calling, you need an iPhone 5c or later on a supported carrier.
To enable Wi-Fi calling, and place Wi-Fi calls from your iPhone, open the Settings app on your iPhone, scroll down, and tap Phone. Now tap Wi-Fi Calling under Calls, and move the Wi-Fi Calling on This iPhone slider to the on position.
When activating Wi-Fi Calling, you might need to enter or confirm your address for emergency services.
Now, if Wi-Fi Calling is available, you'll see Wi-Fi after your carrier name in the status bar. This means your calls will now use Wi-Fi Calling. From now on, you will be able to call your friends without using your cell signal. Keep in mind that this option is disabled by default, so you will need to activate it.
Note that when cellular service is available in your area, your iPhone will use it for emergency calls. If you turned on Wi-Fi Calling and cellular service isn't available, emergency calls may use Wi-Fi calling. Remember that your device's location may be used to aid response efforts when you place an emergency call, regardless of whether you enable Location Services.
HOW TO PLACE AND RECEIVE WI-FI CALLS FROM ANOTHER DEVICE
If your carrier supports Wi-Fi Calling on iCloud-connected devices, you can make and receive Wi-Fi calls on other devices linked to your account. You can use Wi-Fi Calling even if your iPhone isn't on the same Wi-Fi Network, or the phone is off. Make sure that you're signed in to iCloud and FaceTime with the same Apple ID that you use on your iPhone. Also make sure that your devices have the latest software.
The following devices and OS can be used to make and receive calls:
iPad or iPod touch with iOS 9 or later
Apple Watch with watchOS 2 or later
Mac (2012 or later model) with OS X El Capitan and later.
Important note: Wi-Fi Calling isn't available on Mac Pro (mid 2012).
MAKE AND RECEIVE CALLS FROM YOUR IPAD, IPOD TOUCH, OR MAC
To enable Wi-Fi calling with these devices, add the device if you haven't already, and follow these steps:
Open FaceTime.
Tap Audio.
Enter a contact or phone number.
Tap Wi-Fi call.
You can place a call by tapping a phone number in Contacts, Mail, Messages, Safari, and other apps.MAKE AND RECEIVE
CALLS FROM APPLE WATCH
To place and receive calls from your Apple Watch, follow these steps:
Open the Phone app on your Apple Watch.
Choose a contact you wish to call.
Tap Wi-Fi call.
Select the phone number or FaceTime address to place the call.
­
Links
iGotOffer Encyclopedia: all information about Apple products, electronic devices, operating systems and apps.
Need to sell used iPhone online? iGotOffer.com is best place! Free shipping included. Top cash guaranteed. BBB A+ rated business.
How to use WiFi Calling iPhone 6 & 6+ [Video]
Video uploaded by J. Williams on September 23, 2014

<!-comments-button-->