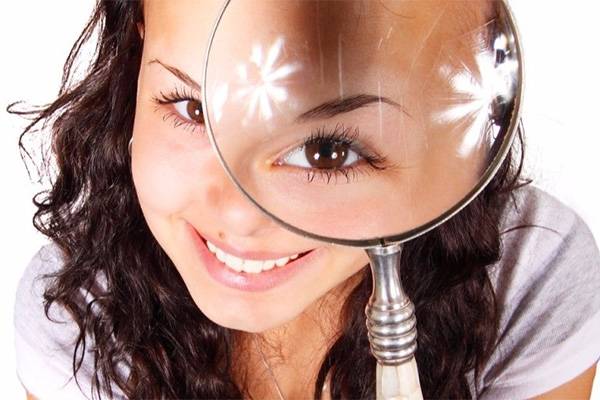 Tips On How to Reduce Strain to the Eyes Due to Excessive Computer Use
Living in a very technologically advanced modern world, many of us are constantly on the computer. Whether it be for personal use, everyday life errands, school or for work… many of us find ourselves staring at a computer monitor for hours every day. The big problem here is that this is unfortunately affecting our eyes and many other aspects of our health. What can one do to try to minimize the negative effects of staring at a computer screen, when your daily life requires it? We came up with a few tips and tricks that can help reduce strain on your eyes while having to be on the computer so much.
The first thing that is recommended is to look away from your computer screen every 20 minutes. When you look away, try to keep your eyes on any object that is about 6 meters/20 feet from you for at least 20 seconds. There is even a free app called Protect Your Vision that will remind you to give your eyes a break. It is compatible with Chrome, Firefox and Safari as far as browsers go.
Monitor Position
The way the computer monitor is positioned is also very important. It needs to be at least 50-76 centimeters/20-30 inches away from you. Your eyes should be also on the same level as the top part of the computer screen. If for whatever reason you don't have the circumstances to put the screen at that height, you can always put a book under the monitor to adjust the height. Or if the issue is lowering it, try to raise your chair to meet the level you need. The most important thing to make sure is that the monitor is 15-20 degrees lower than your eye level.
Monitor Brightness
The brightness of the monitor has to be adjusted according to the surrounding light of the room you are in. If you are able to adjust it, a good source to go off of is a blank white page on any website. If it seems to be lighter than the rest of the room, this mean the brightness of your monitor is too bright. If it gives off a more faded and gray feeling, then the brightness of your monitor should be increased.
Text Size and Color
The good rule to go by is that font and text size should be 3 times as big as the smallest font size you are able to read at a 50-76cm/30-30inch distance. Eyes perceive black font on a white background best. Sometimes a light yellow background is good too. Combining dark font over a light background is what most people seem to prefer and be able to read best. Texts with a low contrast should be avoided since they put the most strain on the human eye.
Color Temperature
Most computer monitors allow you to manually adjust the color temperature to your own preference. In dark rooms it is best to use more warm color tones (like colors close to yellow). In bright rooms it is best to use more cold color tones like light blue. The easiest way to adjust your monitor color temperature is by using the program called f.lux. This app automatically adjusts your color temperature taking into account the time of day and the brightness of the room you are in.
This program is free for Mac, Windows, Linux, iOS, and a few other systems for Android.
If your Android device happens to not support f.lux, the app Twilight is also recommended that works in the same matter as f. lux, and should work with any Android that does not support f.lux.
Taking Care of Your Eyes
If you wear contact lenses, your eyes actually are put under even more stress while looking at a computer. To help reduce some of that strain you should alternate and wear glasses 1-2 times a week instead of your contacts, says Wired. Those who do wear glasses, it is also recommended you wear glasses that have the anti-reflective coating if you are able to do so.
As mentioned before it is important to keep your eyes on the same level as the top part of the computer screen. The reasoning behind this is because like any other body part, our eyes have "muscles" as well. When our eyes are just "resting" there is no strain put on them. On the other hand, if they are constantly looking up, it is a big weight on the eyes. You may have even noticed this yourself. Having to always look up makes your eyes more tired and you can feel the strain over time.
Being on the computer for hours is such a normal part of people's lives nowadays, and sadly not many people are noticing the negative effects this is having on their eyes and overall health. It is almost like they are going "blind" to their environment, not seeing how it is negatively affecting them. We hope some of these tips were helpful and if you are one of the millions of people that has to be in front of a computer on a day to day basis… we hope these tips will help relieve some strain and make your working environment a little bit better from here on!
See also:
Links
5 Ways You're Sitting Wrong at Your Desk – Computer Desk Setup Ergonomics [Video]
Video uploaded by David Zhang on May 11, 2017

<!-comments-button-->