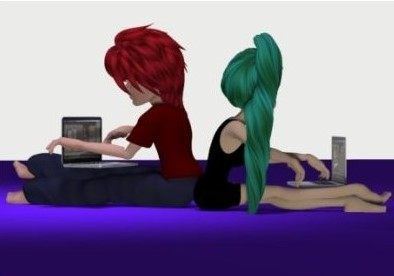 Important Characteristics of a Good Working Environment
The setup of your working environment has a big impact on your health. Indeed, many people suffer injuries from working with computers, such as migraines, eyestrain, conjunctivitis, RSI (repetitive strain injury), fatigue, back strain, neck strain, carpal tunnel syndrome and more. Thus, creating a good working environment is important for your health.
SETTING UP YOUR WORKING PLACE
When you're sitting at your desk, your hands should be in a relaxed position, and your wrists should feel relaxed when you type. Your elbows should be at a 90-degree angle to the desk. Your back should be straight and your feet should be flat on the ground or a footrest. You shouldn't hunch your shoulders.
The mouse should be as close to the keyboard as possible, and you should avoid having to stretch or reach to access the mouse. Your monitor should be at eye level, and 20-38 inches away from your face.
Don't forget that sitting in the same position for a long period, or maintaining an awkward position of your wrists and hands in relation to the keyboard, can harm your body. Also note that a high workload for a prolonged period of time, excessive use of the mouse, and some other factors can add to these risks.
Tip: In the US, regulations require employers to carry out a risk assessment of users' workstations, which should consider the entire workstation, including equipment and furniture, as well as the work environment.
The tasks that are being performed at the work station should be considered, as should any special needs of each individual staff member.
Display screen equipment (DSE) risk assessments should also consider other factors that may contribute to repetitive strain injuries. The DSE Regulations detail the minimum standards for workstations:
The display screen must display well-defined characters of adequate size and spacing, have a stable image, have easily adjustable brightness and contrast, tilt and swivel easily to suit the user, be free from glare and reflections, and use a separate base for the screen, or an adjustable table.
The keyboard should be able to tilt, and be separate from the screen to allow the user to adopt a comfortable working position. It must have a space in front to provide support for the hands or arms of the user, have a mat surface, and have clearly legible symbols on the keys.
The work surface should provide adequate space for the user, have a low reflective surface, be of adequate size to allow the screen and keyboard to be flexibly arranged, and have a stable, adjustment document holder, which should be at the same level as the screen and at the same viewing distance.
A good chair that supports the arch in your back is necessary. The work chair should have a seat that is adjustable in height, with a seat back adjustable in height and tilt. A footrest should be available.
The workstation must provide sufficient space for the user or the operator to alter position comfortably.
Lighting must be adequate with suitable contrast between the screen and background, glare and reflections on the screen should be avoided. Windows should be fitted with adjustable coverings to alter the daylight level. When a workstation is shared by more than one person, it should be assessed in respect of each person.
Schools and colleges should consult their safety reps on all matters concerning work with computers. Employers are obligated to provide information and training on the health and safety aspects of working with computers. This should cover: the importance of good posture, changing position, good keyboard technique, how to avoid glare or bright reflections in the screen, and cleaning and adjusting the screen.

Keep in mind that frequent short breaks are necessary to avoid or diminish health risks.

Under the regulations, users have a right to eye sight tests upon starting computer work and at regular intervals thereafter, at the employer's expense. Where tests show that the user requires special spectacles/lenses for computer work, the employer must pay for the cost of a basic pair.

Laptops should be used in proper workstations and not on one's lap, especially if large amounts of data need to be inputted. As prolonged use is likely to cause ergonomic problems, it is even more important for users to take regular breaks, position themselves correctly, flex their arms, etc.

­See also:

Credit image: IGotOffer.blog

<!-comments-button-->