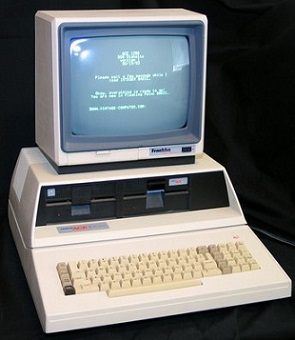 History of Apple Clones: Franklin Ace 1200
In1983, an American company named Franklin Computer Corp. released a home computer for $2,200 USD, the Franklin Ace 1200, which was compatible with Apple II. It was the improved and upgraded version of the Franklin Ace 1000 computer, which was unveiled in 1982. The Ace 1000 came with built-in dual drives and the CP/M Softcard as standard features. These were the first legal Apple II clones.
The Franklin Ace 1200 was discontinued in 1984, but in one year there were tens of thousands of units manufactured in the US.
Specifications
Processor: MOS/Commodore 6502.
Speed: 1 MHz.
RAM: 48K.
ROM: 16K.
Storage: 2 5.25″ floppy drives.
Expansion: 7 slots.
Bus: Apple II compatible.
Video: Built in video, various resolutions to 320 x 192×16 color. Composite monitor or RF Modulator to TV supported.
I/O: Parallel, Serial.
OS: Apple DOS, ProDOS, CP/M.
Keyboard: Full Stroke 71 keys.
Text Modes: 40×24.
Graphic Modes: 40 x 48 / 208 x 160 / 280 x 192.
Colors: Monochrome.
Voice: 1 voice – built-in speaker.
Size: 46 (W) x 50 (D) x 20.5 (H) cm.
Accessories: Joystick, composite video, 8 Apple II compatible slots.
Power Supply: Built-in switching power supply unit.
Peripherals: Apple II extensions.
This was the computer with which many users first discovered computer games, such as Computer Quarterback, Oregon Trail, Zork, Burger Time, and best of all, the original Castle Wolfenstein. Its working software WordStar served many purposes, such as teaching users BASIC.

In September 1983, Franklin lost a trial against Apple for counterfeiting ROM software from Apple II and II+. Moreover, the Apple IIe, launched some time later with 2 special keys allowing consumers to distinguish between a true Apple and other machines. However, Franklin Computer Corporation still produced Apple II and PC compatible computers (ACE-500, ACE-2000, PC-8000) for about two years before devoting them to pocket translators.

­See also:

<!-comments-button-->