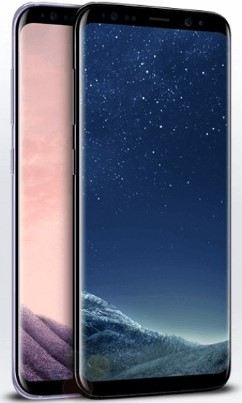 Samsung's Galaxy S8 and Galaxy S8 Plus
Samsung's Galaxy S8 and S8 Plus will make their debut on March 29, 2017. In fact, in the last year, Samsung proved to be the biggest phone maker in the world, as the company sold over 300 million smartphones in 2016. Samsung's smartphones accounted for one in every five phones sold.
The Galaxy S8 and S8 Plus are expected to come with a curved screen, and an elegant and modern industrial design. The wraparound screen is refreshing to see in the new design. We assume Samsung's rivals will also add curved screens to their phones in the future. A fingerprint gestures scanner and an iris scanner will allow the owner to unlock the handset with a glance and a gentle touch. It is rumored that the iris scanner will be capable of authorizing payments online, but we can't say if this feature will be as trustful as a digital reader, or if it will be speedy enough.
Another new feature is the addition of Bixby, a digital assistant, which is similar to Apple's Siri, Microsoft's Cortana, or Amazon's Echo Alexa assistant. Samsung has already promised that the company would make Bixby available across many of its devices. We can expect Bixby to tie together different devices and appliances, such as phones, washing machines, microwaves, and fridges. This innovation could give Samsung a big advantage.
The Galaxy S8 will be lighter than the Galaxy S7, even though the display of the new flagship phone is larger. Its body size is similar to the previous model, but the bezels above and below the screen have been reduced.
The new phone has no physical home button, and has been replaced by a 3D Touch pressure sensing icon under the screen to give the user a home button experience.
Both the front and the rear cameras can capture 1,000fps video, thanks to the addition of dedicated DRAM to the camera sensor.
Introduction: March 29, 2017. Release: April 21, 2017.
SPECIFICATIONS
Processor: Snapdragon 835 for the US, Japan and China. Exynos 8895 for other countries.
RAM: 4GB.
Storage on both models: 64GB.
Dimensions: 148.90 (H) x 68mm (W) x 8mm (D).
Galaxy S8 Display: Curved OLED 5.8-inch with an elongated 18.5:9 aspect ratio.
Galaxy S8 Plus Display: Curved OLED 6.2-inch with an elongated 18.5:9 aspect ratio.
Resolution: Default resolution – full HD 1080 pixels. Max resolution – 2960 x 2400.
Front camera: 8MP, f/1.7 aperture.
Rear camera: 12MP sensor, f/17 aperture. Laser autofocus added to Dual Pixel focus to capture better photos.
Connectivity: Dual-band gigabit Wi-Fi support, alongside Bluetooth 4.2 (with apt-X and LE). USB – Type-C, 3.5mm jack.
Galaxy 8 Battery: 3,000mAh, wireless charging.
Galaxy 8 Plus Battery: 3,500mAh, wireless charging.
Colors: Many color options, including blue, violet, orchid grey, arctic silver and more.
Other features (the list is not exhaustive):
No physical home button.
IP68 water and dust resistant.
Rear fingerprint gestures scanner.
Iris scanner.
Bixby Artificial Intelligence assistant, based on S Voice, a virtual mobile personal assistant capable of running a large number of tasks through voice command alone.
Samsung Web browser.
Galaxy app store: a store which offers apps specially designed, or at least optimized, for Galaxy or Gear. The
Galaxy Apps store is also a go-to source for deals offered only to Galaxy and Gear users.? Galaxy S8 and S8
Plus owners also get access to the Galaxy Game Pack.
Samsung email client, which is popular among users of Samsung's Galaxy line of Android phones.
Samsung calendar.
Samsung Gallery app: allows the user to view images and watch video files stored on their smartphone. This app supports photo galleries, 2D and 3D video, as well as 3D spatial sound or subtitles.
Samsung Action Memo app: turns handwritten notes into action for immediate use, or saves them for a later time. This app also provides users with an array of options via its Link to Action option.
Samsung S Health: a fitness app which automatically records daily activities, checks stats at a glance, offers helpful tips, helps build healthy habits, monitors exercise and eating habits, sleeping patterns, and more.
Samsung+ feature: live support which helps users to easily get help for Samsung products.
Samsung Smart Stay: with this feature, the front-facing camera "senses" when the user is looking at his or her phone. Smart Stay then lets the screen to stay on regardless of the screen timeout setting.
Samsung Cloud: a backup system to help users restore all the data and settings in case the phone is lost, stolen, or just stops working.
Samsung Pass: identity management as-a-service feature, developed by Samsung. It enables secure access through biometric authentication.
Samsung Gear: this feature serves to pair the Galaxy phone with the Samsung watch.
Always On Display: this function, introduced with the Samsung Galaxy 7, displays a clock, notifications, and calendar on-screen when the phone is in standby mode.
Multi Window for Nougat.
Video Enhancer for Nougat.
Performance Mode for Nougat.
Samsung Pay.
DeX Station: an official Samsung dock for both phones with active cooling and full-sized ports that transforms the phones into desktop-friendly operating systems when connected to a monitor.
BASIC PRICES TO EXPECT
Galaxy 8 – $724.
Galaxy 8 Plus – $824.

Depending on the carrier and contract, the phone will cost from $28 to $35 a month.

Guard S8 – an optional warranty system in which Samsung promises to repair owner's phones within two hours (some regional restrictions apply). The owner will get one free screen repair and 'remote support' on the phone itself for quick, live support chats.

Credit image: winfuture.mobi/news/96805

<!-comments-button-->