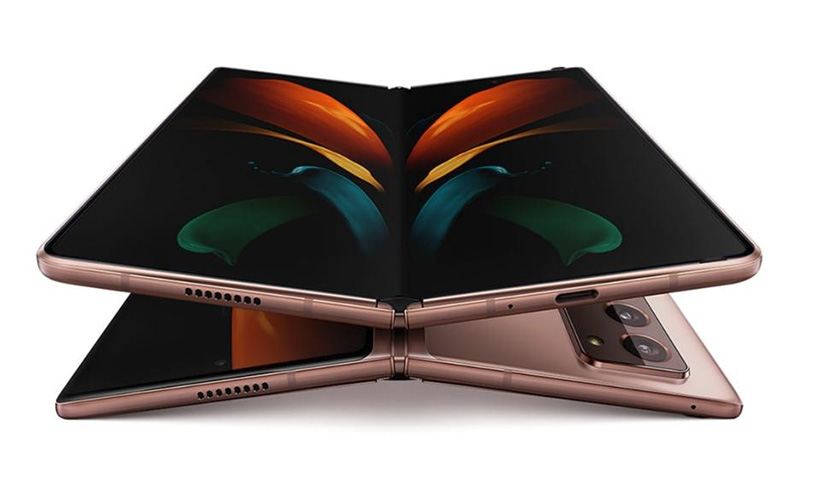 Galaxy Z Fold 2 Phone: No folding back
When the big guns in the gadget world – like Samsung, in this case – present their new accordingly big (in substance, if not necessarily in size) toys, it's always bound to be a headturner. But with Galaxy Z Fold 2, to be released on the 18th of September (those in US and UK, mark that date), the company really made a notable splash (no pun intended this time, even though the device in question was unveiled to the Unpacked 2 event audience along with two new Notes 20: Galaxy and Ultra), surpassing many in the field. And it's not all just because in the current climate any new product or event – even a streamed one and consisting of videos recorded in advance (like Unpacked 2 was) or automatically turns into a scoop. There were other reasons, too.
Firstly, even in our days when large displays became par for the course, 7.3 inch is nothing to sneeze at. After all, few other phones can offer so much space, and – here is a cherry on top – this particular screen extends all the way across the handset's surface. But, more importantly – some would even say mainly – this display, as is clear from the phone's title – can literally fold in two. Now it is not a breakthrough this time, what with Fold 1 already being in the market and successfully undermining one very popular smartphone concern. (Remember all those complaints about "these shovel-like behemoths" normal people can't handle and never know where to fit? You couldn't have possibly forgot them, as they never actually quite went away. Well, with Z Fold, allowing one such "behemoth" to be reduced to half its size in one sweeping movement, this point was at least equally reduced). And the new version still doesn't literally bend over backwards (and, for that matter, it wouldn't be wise in terms of screen protection). However, now, thanks largely to the new hinge design the folding itself became – judging to what we saw – as smooth and easy as it would be with any paper booklet. These new CAM hinges are stronger and more flexible at the same time, and they even include dust-removing brushes.
And it's not just folding that has improved with the new iteration: the overall look of Z Fold 2 is now looking sleeker (and no wonder, since it got thinner at both ends and what with sharper corners), the productivity is expected to increase due to that very "behemoth" screen size, the multi-tasking capability has been bettered, the DeX has been embedded and there are new potent features sported by the device's camera: there is Capture View option and Flex and Pro Video modes, for instance. Options of use have been widened too: the cameras will now work even when you unfold your phone only partly (yes, Z Fold 2 works in that state as well), so you will no longer need any propping for the phone when doing timelapses and long exposure. Plus, with this smartphone, you can actually move the items between the two halves of the screen (or, effectively, two screens as the case may be). This will also allow the owner to open text documents in several windows at once (and on top of document view optimization, the multiple windows look is now available in Outlook as well). And the model is available in more colors this time, for all tastes (adding Mystic Bronze and Mystic Black to the array), and we all know that the "good clothes open all doors" rule works with gadgets as surely as it does with us people. Moreover, even hinges offer some color diversity this time (red, blue or gold, to wit).
Secondly, the inside screen of Z Fold 2 is a bit different, too. It is covered with Ultra Thin Glass layer and also has grown to 7.6 inches. Besides, its refresh rate increased to 120Hz, so scrolling and graphics became more seamless.
Then, it comes with inbuilt 5G. Of course, it's not such a unique quality in our days, but it clearly considerably extends the attractions of Fold 2's and places it firmly into the category of forward-looking gadgets.
In addition, Z Fold 2 allows for multiple application panes (when used in the tablet state) and for simultaneous work in two applications, opened side by side. More than that, you can screenshoot them all at once.
And to round it all up, this new offering of Samsung sports very impressive specs (not that it is much of a surprise, considering the company's traditions, but still nice to know). There is a Qualcomm Snapdragon 865 Plus processor, which levels the Fold 2 with Galaxy Note 20 Ultra in this department; there is, perhaps even more whopping 12GB of RAM; each camera (of which there are three, mind you) includes 12MP sensors, and one of them boasts dual-pixel focus (hello, easier shooting in low light conditions); there are 2x optical and 10x hybrid zooms on telephoto camera.
Now to the question all of you have most likely been itching to ask by now: so does it mean that this newly-introduced Z Fold 2 is actually perfect and has nary a downside? Well… we guess, you already know (or educately guessed) the answer. No, there is nothing perfect in our imperfect world. And there are a few things Samsung could do better in this case, too. For example, for such a price (yes, there is this ever-contentious issue again: the new Fold will set you back $1,499, and that's not mentioning the premium version, and yes, there is one, the whimsically named Thom Browne), they could include the S Pen (and no, they didn't). Even more jarring is the limited – considering all the rest – 256GB of storage, which, to add insult to injury, can't even be expanded. And the hopes of those who might have dreamed of water resistance will also be dashed.
Nevertheless, overall, it is actually a fine not-so-little package, showing that Samsung took a lot of feedback to the previous version into account and put in a lot of effort into the upgrade. So well done Samsung, keep up the good work.
Links
Samsung Galaxy Z Fold 2 Unboxing [Video]
Video uploaded by Unbox Therapy on September 1, 2020

<!-comments-button-->