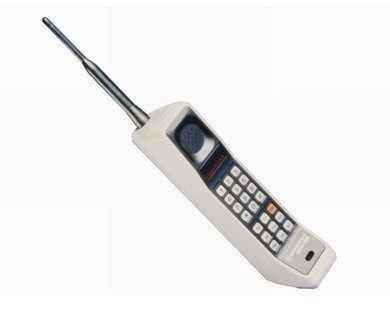 The History of Mobile Phones
The first research regarding mobile phones was conducted by Bell Laboratories, a historic scientific development company, created in the late 19th century by Alexander Graham Bell. This company introduced the idea of cellular communications in 1947. However, their system was sought to be installed in cars, as the equipment's weight was roughly around 30 pounds, and it couldn't be handheld.
The first real technological breakthrough was engineered in 1973 by Martin Cooper, an inventor with Motorola company. The first handheld mobile phone call was made on April 3, 1973 by Cooper and John Francis Mitchell, Motorola's Chief Engineer. They demonstrated two working phones to the media at the entrance of the New York Hilton Hotel. Standing on 6th avenue, Martin Cooper made the first cellular phone call in public from the prototype DynaTAC.
So the very first mobile phone call in public was made on April 3, 1973 when Martin Cooper used the prototype DynaTAC to make that historical call. To tell the truth, Bell Labs had introduced the idea of cellular communications in 1947 but their phone weighed 30 pounds. In 1983, the first mobile phone went on sale. It was sold at $3900.

That call connected Cooper to a Motorola base station located on the roof of the Burlingame House, and into the land-line telephone system. Cooper dialed the number of his chief competitor Dr. Joel Stanley Engel at ATT and said these historical words: "Joel, this is Marty. I'm calling you from a cell phone, a real handheld portable cell phone." And just like that, history was made!
On the July 1973 issue of Popular Science Magazine, Martin Cooper talked at length about the first experiences with DynaTAC. Funny enough, the inventor described his first conversation while walking down the street in his interview: "I made numerous calls, including one where I crossed the street while talking to a New York radio reporter – probably one of the more dangerous things I have ever done in my life."
DynaTAC marked a fundamental shift in communications, as with the arrival of the mobile phone on the market, people started to call other people instead of calling a place. This creative innovation resulted in a major achievement for Motorola. The same year, the company gained Federal Communications Commission (FCC) approval for cellular licenses to be assigned to competing entities.
Finally, let us remind you that the first mobile phone went on sale in 1983, at a price of $4,000 a unit. But today our cell phones have more computing power than the computers used for Apollo 11 Moon expedition back in 1969! Apollo 11 was landed on the Moon using a comptuer that had 1,300 times less processing power than a modern mobile phone.
­See also:
iGotOffer Encyclopedia: all information about Apple products, electronic devices, operating systems and apps.
iGotOffer.com: the best place to sell my used cell phone online for the top cash. BBB A+ rated business. Free shipping included.
<!-comments-button-->