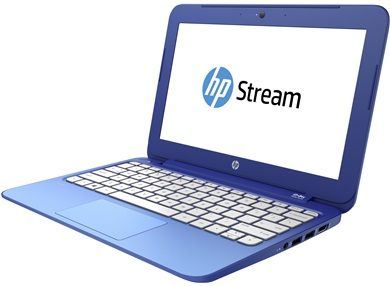 HP Stream 11: New Budget Windows Notebook
HP Stream 11 new budget Windows laptop has the same dimensions as an 11-inch MacBook Air (the Stream 11 is only a tenth of an inch thicker). At 2.74 pounds, it's heavier than a 2.38-pound MacBook Air, at a quarter of the price! Of course, you'll not change MacBook Air for this HP computer, as it is not an enterprise-class computer. But we could recommend it for anyone who needs the ability to run Windows desktop programs, especially Microsoft Office and does most day-to-day activity in the cloud. This little machine is really nice. Office apps snap open quickly, and even casual games perform perfectly well.
HP Stream 11 is aimed at cost-conscious consumers and to those who'll use it for work. Don't even think of installing Visual Studio, Photoshop, or any game that puts modest demands on the GPU.
Here's what's inside the Stream 11: Celeron N2840 CPU clocked at 2.16 GHz, 2 GB of RAM (1.89 GB usable); 32 GB of eMMC flash storage (Hynix HBG4e) with a full-size SD card slot for expansion; an 11.6-inch (diag.) WLED backlit display, running at 1366×768 resolution; HP TrueVision HD webcam; 802.11 b/g/n Wi-Fi and Bluetooth 4.0; 2 USB ports (1 USB 3.0, 1 USB 2.0); a full-sized HDMI port; Windows 8.1 with Bing (64-bit). A larger variant, the Stream 13, includes 4G options.
Among the weaknesses of the Stream 11's is its storage. Out of the box, roughly one-quarter of the 32 GB storage is devoted to a Recovery Partition. Windows, its built-in apps and the Office program files gobble up some more space. After installing some other features and connect to iCloud and so on, you may end up with under 10 GB of free storage on the system itself. However, it is easy to expand that storage with an inexpensive SD card.
Finally, let's say that the plastic housing has a solid, not flimsy feel, with a nice matte finish that makes the case easy to grip. The display is sharp enough for casual use and is viewable at even extreme angles. Because the design is fan less, this device is also quiet.  Besides, user has no trouble connecting the Stream 11 to a Miracast adapter and playing HD videos with surround sound. Because Windows 8.1 includes Miracast support by default, that takes no configuration at all. Other preinstalled programs include 7-Zip, Netflix, Skype, TripAdvisor, and some Microsoft games.
­See also:
Apple Encyclopedia: all information about products, electronic devices, operating systems and apps.
iGotOffer.com: the best place to sell my used Macbook online. We buy even broken laptops. Free quote. BBB A+ rated business.
<!-comments-button-->