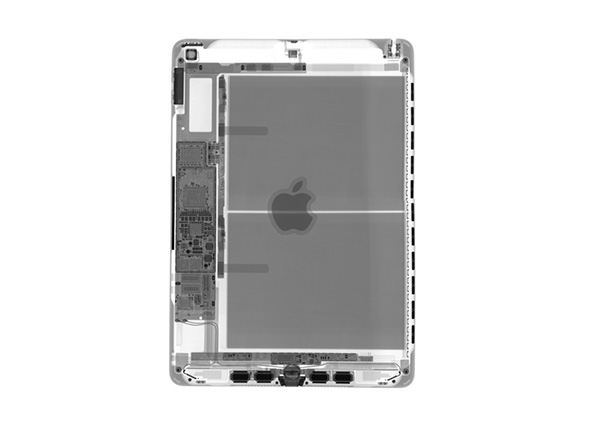 A week after the announcement of the new sixth generation iPad 9.7, the skilled guys from iFixit were able to get their hands on this tablet. Armed with a dedicated set of tools, the iFixit team opened up the tablet and found out some interesting details. First, the repair of the screen is much cheaper than the Pro models, since the display is not laminated. However, to dismantle the display module, you need a knack and an anti-adhesive fluid for softening a copious layer of glue – the display is almost permanently glued to the body. We are not surprised, to be honest.

With the support of the Apple Pencil now, the iPad still has independent glass and display itself. They are detachable, so the cracked protective glass can be replaced, leaving the old display. The A10 Fusion chip is similar to that in the iPhone 7 and iPhone 7 Plus. The tablet also has 2 GB of RAM. The controllers developed by Broadcom are responsible for processing the signals coming from the Apple Pencil stylus. Exactly the same are installed in the iPad Pro. Another thing that we were pleased to see was that Apple still continues to use the battery from the previous iPad 5 – model number A1484 with a 32.9 Wh capacity.

There are also some changes in the logic board due to the Apple Pencil support:
• Apple A10 Fusion APL1W24 SoC (also found in the iPhone 7) with 2 GB Micron D9VBD LPDDR4 SDRAM layered beneath
• Apple 343500203-A0, likely a PMIC, possibly a revision of the iPad 5's 343S001441-A0
• 2x Broadcom BCM15900B0 touch screen controller found in the 10.5″ and 12.9″ iPad Pro

•

Toshiba TSB3236LX3536TWNB1 32 GB flash memory
• USI 339S00448 Wi-Fi/Bluetooth module
• NXP 80V18 PN80V NFC controller
• Cirrus Logic CS42L83A low power audio codec

In fact, the new iPad is almost a complete copy of the previous generation model. Apple still does not regret glue, which significantly reduces the device's reparability. On a ten-point scale, the new iPad scored only 2 points. Last year's iPad and iPad Pro 10.5 received the same evaluation.

Links
<!-comments-button-->